Key Gauge of Japan's Economy Falls to Lowest Since Early 2010
(Bloomberg) -- A key measure of Japan's economy fell to a level not seen since the wake of the financial crisis, adding to concerns about the economy ahead of an October sales-tax hike.
The leading coincident index dropped to 93.3 in June, the lowest since February 2010, the Cabinet Office said Tuesday.
The index is one of Japan's broadest indicators of current economic activity, drawing on nine measures including industrial output and shipments of consumer durable goods. The Cabinet Office uses it to help determine whether the economy is officially in expansion or recession.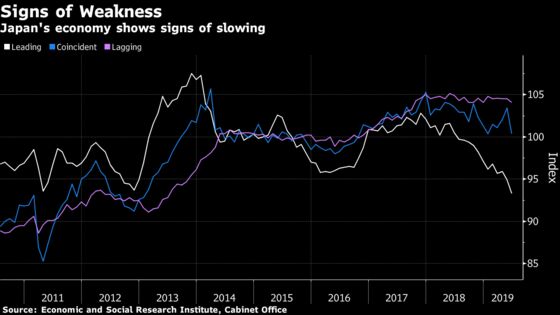 Prime Minister Shinzo Abe has compiled counter-measures to help offset the planned increase in sales tax from 8% to 10%. A similar hike in 2014, from 5% to 8%, sent consumption into a tailspin, driving a 7.1% contraction in GDP for one quarter. Still, Abe has said the planned increase will go ahead unless Japan faces a challenge of similar magnitude to the global financial crisis.
Gross domestic product data, due Friday, is expected to show that Japan's economy grew again in the second quarter, though at a slower rate than the previous three months. Yet an escalation of the U.S.-China trade war is a threat to global growth, weighing on sentiment in Japan and elsewhere.
Japanese households already are spending the smallest share of their incomes in nearly two decades, according to one gauge. The percentage of income that households spend dropped to 64% in June, the lowest on record in data going back to 2000, the ministry of internal affairs said Tuesday.
Separate data Tuesday showed household spending rose for a seventh month in July compared to a year earlier, but fell 2.8% on a seasonally adjusted basis from a month earlier, its third decline in six months this year.
The reluctance to spend is also reflected in a deteriorating mood. Japan's consumer confidence fell in July to the lowest level in more than five years, extending the longest downward slide since the financial crisis.