Rate Curve Points to Fed Cuts as Growth Outlook Fades
(Bloomberg) -- A gauge of U.S. economic health that has been referenced by Federal Reserve economists has flashed warning signs for the second time this year.
The near-term forward spread, which reflects the difference between the forward rate implied by Treasury bills six quarters from now and the current three-month yield, fell back below zero on Friday for the first time since January. While it's since edged back into positive territory, a negative reading indicates market expectations of monetary policy easing during the next 12 to 18 months.
Its last foray below zero marked the first time that's happened in a decade. Chairman Jerome Powell, who in December said the Fed could be "patient" with policy going forward, continued to signal a "wait-and-see approach" since then.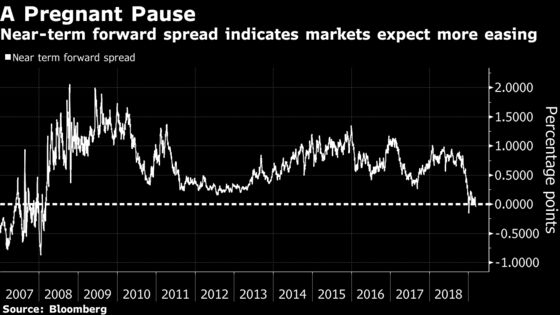 "The near-term forward spread is a guide on how the market perceives Fed policy," said Gary Kirk, a partner and portfolio manager at TwentyFour Asset Management LLP in London. "Despite the dot-plots, the market is currently expecting a rate cut in 2020."
Fed economists referenced the gauge's utility in predicting recessions in a research paper last July, and Fed staff noted in the central bank's January meeting that the spread "was in the lower end of its historical distribution," minutes of the gathering showed.
Traders watch yield-curve implied measures closely to provide early warning signs of U.S. economic health. The decline in the near-term forward spread comes after disappointing Chinese trade data released on Friday and dialed-back growth forecasts from the European Central Bank and the OECD earlier in the week.
Whether the Fed sparks fear of a policy error from any further rate increases is "a classic late-cycle conundrum," said Kirk.
The spread between the two-year and 10-year Treasury note, another closely watched indicator known for its power in predicting recessions, remains in positive territory but is trading close to levels last seen in 2007. The Fed paper from July argued that the near-term forward spread was a more statistically meaningful indicator.