Kenyan Shilling Hits Record Low as Companies Seek Dollars
The Kenyan shilling slipped to a record low against the dollar on Wednesday amid increased corporate demand for greenbacks following the lifting of some restrictions imposed by the government to control the spread of the coronavirus.
The currency of East Africa's largest economy weakened 0.1% to 107.98 against dollar by 10:15 a.m. in the capital, Nairobi, after breaching 108 earlier for the first time. A close at that level would be the lowest since at least December 1988, when Bloomberg started compiling the data,and extends the unit's loss since beginning of year to 6.5%.
Imports are picking up as the economy restarts, increasing demand for foreign currency, said Vinita Kotedia, a Nairobi-based analyst at EFG Hermes Kenya. Relatively low interest rates are also weighing on the shilling, she said, after the central bank slashed its policy rate by 125 basis points since January to a nine-year low.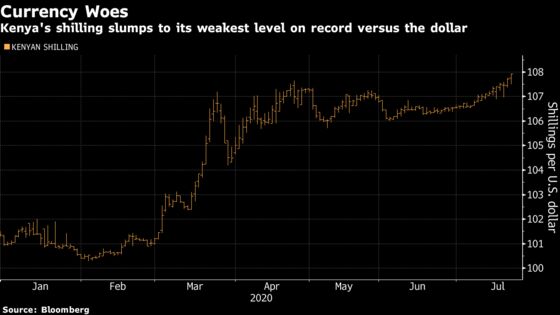 "Some of the corporates were stockpiling dollars to be able to pay dividends to foreign investors," said Churchill Ogutu, head of research at Nairobi-based Genghis Capital. The increase in dollar demand is temporary and pressure on the shilling should ease as companies complete their payouts, Ogutu said.
The shilling's decline came even as the central bank used reserves to support the currency, according to Kotedia. Kenya's foreign-exchange reserves dropped for the second consecutive week to $9.67 billion as of July 16 from $9.7 billion a week earlier, according to data published by Central Bank of Kenya.
"CBK is using some of its reserves to help ease some of that pressure, which we think is partially seasonal," Kotedia said.