Kenyan Shilling Plunges to Record Low as Virus Fears Intensify
The Kenyan shilling fell to a record low against the dollar ahead of a central bank monetary policy meeting on growing fears the coronavirus will hit the East African economy hard.
The shilling fell as much as 1.4% to 106.51 against the dollar in Friday trade, according to data compiled by Bloomberg.
"The coronavirus pandemic is seen hitting tourism receipts due to travel restrictions and slow diaspora remittances," according to Churchill Ogutu, a senior research analyst at Nairobi-based Genghis Capital.
The Central Bank of Kenya's monetary policy committee may cut the benchmark rate by 75 basis points to 7.5% at its meeting on Monday, according to Genghis.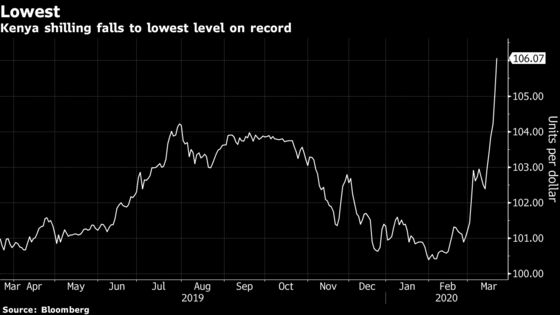 "While the MPC will be keen to maintain price stability with inflation and currency under pressure, growth prospects are waning and we believe this will be the focus of discussion," Genghis said in an emailed note.