Kenya Shilling Falls Most in More Than Three Years Against the Dollar
The Kenyan shilling fell the most in more than three years amid plans by the East African nation's central bank to start buying foreign exchange from lenders in an effort to boost its reserves.
The shilling weakened as much as 0.9% to 102.35 against the U.S. dollar in Tuesday trading. It pared losses to 0.7% to 102.16 by 5:17 p.m., the most since January 2017, according to data compiled by Bloomberg.
The central bank, in a letter to commercial banks, said it plans to buy as much as $100 million from lenders each month from March to June as it seizes an opportunity of savings from lower oil-import prices to boost it's foreign reserves. The memo was verified by four people familiar with the issue who asked not to be identified because they aren't authorized to comment publicly.
The market is reacting "to the expectations of increased dollar demand which will be brought about by this directive," said David Ngungi, a macro analyst at Nairobi-based Cytonn Investments. "The highest probability is that there was some market panic due to this since the directive is just basically reducing the current supply of dollars in the market."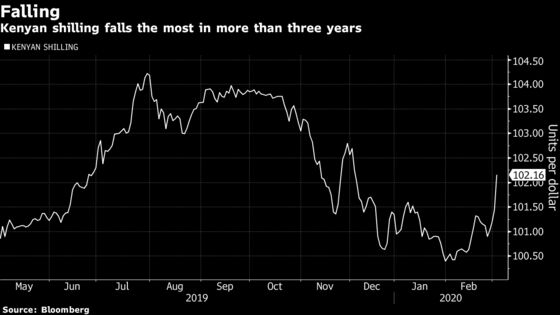 The central bank moved to reassure the market that the purchases will be conducted in a way that wont introduce instabilities in the foreign exchange market, according to the memo.
"The central bank has created demand for dollars so the shilling will come under pressure," said Reginald Kadzutu, head of retail at Zamara, a Nairobi-based actuarial and pension services provider.
READ: Kenya Central Bank Plans Dollar Purchases to Boost Reserves