Kenya's Shilling Gains for a Second Month as Pandemic Woes Ease
The worst may be over for Kenya's shilling, which strengthened for a second month in June as foreign-investment outflows eased.
The currency of East Africa's largest economy, which got battered along with its developing-nation peers at the height of the coronavirus panic, added 0.2% last month to 106.56 against the dollar. It may stabilize and trade in the range of 106-107 for the year, according to Jibran Qureishi, Standard Bank Group's head of research for Africa.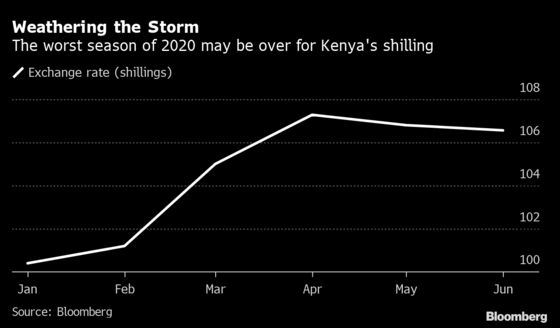 "From a global risk perspective, we've probably seen the worst for the shilling," Qureishi said. At the same time, "the downside for USD/KES below 106 is quite limited especially if the central bank will be buying dollars at that level, which is something they have done in the past one month."
Remittances, Kenya's biggest source of foreign exchange, jumped 24% in May from the previous month to reach $258.2 million. Foreign-exchange reserves climbed to $9.3 billion by June 11, sufficient to cover more than five months of imports, according to central-bank data. The current-account deficit narrowed to $1.04 billion in first quarter, the latest data from the statistics agency showed.