Kenya's MPC Cuts Rates to Spur 'Below-Potential' Economic Growth
(Bloomberg) -- Kenya's Monetary Policy Committee unexpectedly cut its benchmark rate for the second time this year to spur private-sector lending and economic growth.
After signaling room for a more accommodative monetary policy at its May meeting, the MPC reduced the gauge to 9 percent, the lowest in three years, from 9.5 percent, according to a statement published Monday on the Nairobi-based central bank's verified Twitter account. Only two of seven analysts surveyed by Bloomberg had predicted a reduction.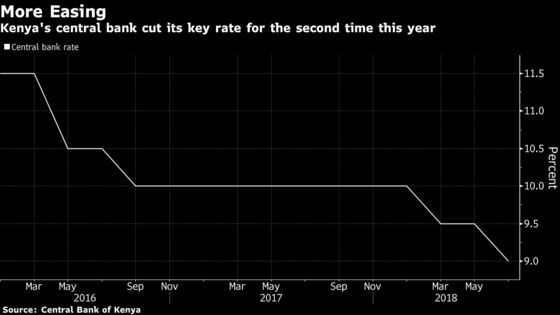 "The MPC noted that inflation expectations were well anchored within the target range, and that economic growth prospects were improving," Governor Patrick Njoroge said in the statement. "Economic output was below its potential level."
The central bank last trimmed borrowing costs in March as it sought to spur lending in an economy that expanded at the slowest pace in five years in 2017 and where credit advanced to the private sector is constrained by a law limiting what banks can charge for loans. Economic growth picked up in the first quarter and Treasury Secretary Henry Rotich proposed repealing the rate-cap legislation in his June budget speech.
Lawmakers are yet to accept the proposal to abolish the law that limits commercial lending rates to 400 basis point above the central bank rate.
"I thought they would hold now, and then cut when they decide on a date to remove the caps on commercial interest rates," Jacques Nel, an economist at NKC African Economics in Paarl, South Africa, said by phone. "The MPC noted that the previous cut didn't have the impact that they would have liked it to have, so it was unexpected that they would implement another cut with those regulatory caps still in place."
What Our Economist Says
"The Central Bank of Kenya appears to be basing its decision to cut against the grain of monetary policy on its expectations that food prices will dip even more sharply than they did in the second half of last year. We expect inflation to trend towards the ceiling of the CBK's 2.5 percent to 7.5 percent inflation target in the second half of the year and see a risk that the MPC will have to quickly reverse this rate cut."

Mark Bohlund, Bloomberg Economics
Inflation has accelerated to 4.3 percent in June from the five-year low it reach in April. The statistics office will publish the July data on Tuesday. The bank targets price growth in a range of 2.5 percent to 7.5 percent and said on Monday it will remain within this band due to lower food costs.
The regulator has forecast economic growth will accelerate to 6.3 percent this year.
"The timing of the CBK cut is odd -- ostensibly with growth well-supported and with inflation soon to rise," Razia Khan, head of Africa macroeconomic research at Standard Chartered Bank Plc, said by email. "It is difficult to see scope for any further easing."