Kenya Halts Stocks Trading After Slump on First Coronavirus Case
Kenyan stock prices tanked on Friday after authorities announced the East African nation's first confirmed case of coronavirus, forcing the Nairobi bourse to halt trading.
The FTSE NSE Kenya 25 Index plunged as much as 8.2%, its biggest drop yet, before paring some losses to 5.8% lower when trading was stopped. The NSE 20-Share Index fell 5% to its lowest in 16 years, while the All-Share Index is in bear territory after sinking 22% from a peak in January.
"There was a sell-off following the announcement of the first case in Kenya," said Sarah Wanga, head of research at AIB Capital Ltd. "We saw a surge in foreign outflows."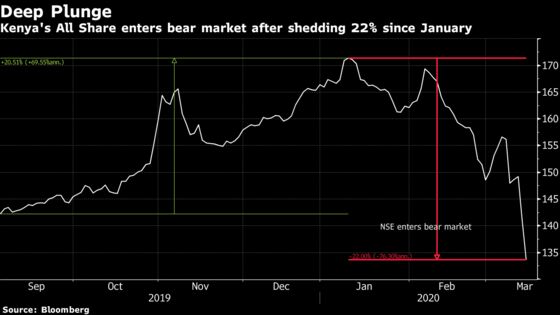 The stocks move mirrors global markets because foreign investors are not distinguishing between oil exporters and net-oil importers, according to Jibran Qureishi, Stanbic Holdings Plc's economist for East Africa. Kenya, a net-oil importer, will benefit from the crashing crude prices.
"That differentiation happens after a while, which is why you're seeing Eurobond credit spreads widening for both oil producers and non-oil producers," Qureishi said by phone. "In the immediate aftermath of such a shock - which is still happening - differentiation won't happen straight away. Unfortunately, investors still see sub-Saharan Africa as a homogeneous block, which is not right."
Yields on Kenyan Eurobonds due in 2024 have gained more than 2 percentage points this week.
Covid-19 offers a scapegoat for "underlying structural problems" in the Kenyan economy, according to Reginald Kadzutu, an economist at Zamara. Other than the novel coronavirus, challenges to East Africa's biggest economy include the worst desert locust invasion in seven decades, a local currency that's weakened year-to-date against the dollar and disappointing company earnings, he said.