Kellogg Union Sees 'Little Movement' in Strike Negotiations
(Bloomberg) -- A union representing striking workers at cereal giant Kellogg Co. said there has been little progress since a meeting to negotiate a new contract began Tuesday, and time may be running out.
The company and members of the Bakery, Confectionery, Tobacco Workers and Grain Millers International Union sat down for talks in Virginia that are slated to last through Wednesday. 
"There has been very little movement from the company on anything," according to a statement from the organization's negotiation committee. "The company is aware that if we do not reach a tentative agreement by tomorrow, we will be coming home Thursday."
Kellogg didn't respond to a request for comment.
The roughly 1,400 unionized cereal workers went on strike on Oct. 5 at plants in Omaha, Nebraska; Battle Creek, Michigan; Lancaster, Pennsylvania; and Memphis, Tennessee. The locations produce cereal brands such as Rice Krispies, Raisin Bran, Froot Loops and Frosted Flakes.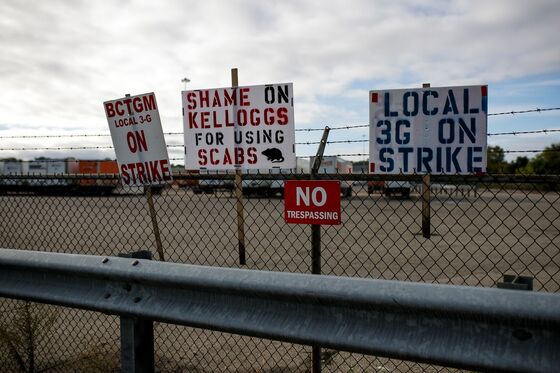 Ahead of the meeting, the company had signaled a willingness to consider proposals favored by the union. Workers had objected to possible changes to a two-tier employment system separating "transitional" and "legacy" employees.
Dan Osborn, president of the Omaha chapter of the BCTGM, said he was still hopeful that the two sides could come to an agreement Wednesday. "If a tentative agreement cannot be reached, we are fully prepared to continue our fight for what is just and fair for the American blue collar worker," he said.