Kellogg Dives as Investors Show Little Faith in Turnaround Bid
(Bloomberg) -- Kellogg Co. is betting big on snacks and single-serve foods to turn around its flagging business. But investors are skeptical.
The shares plunged the most since 2000 on an intraday basis Wednesday after the company trimmed its profit outlook because of higher investment to boost advertising and rebuild sluggish brands. The stock dropped as much as 9.6 percent to $64.95 in New York.
Chief Executive Officer Steve Cahillane said the company is aware of the challenge ahead.
"Returning brands to top-line growth that have not been growing is a very difficult thing to do," Cahillane said in an interview. Investment in products such as Cheez-It crackers, Rice Krispies Treats and Pringles, the company's biggest for the U.S. snack market, show Kellogg's plan is paying off, he added.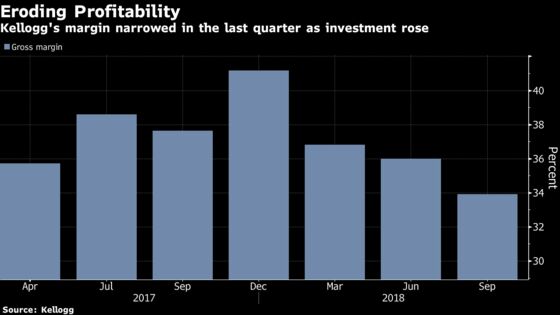 Kellogg is navigating consumers' fast-shifting tastes, especially in the U.S. Packaged-food companies have had trouble keeping up. Along with more marketing, Kellogg said it's also revamping factories so they can make single-serve snacks for on-the-go customers. This will make the company's distribution network more efficient and lower transportation costs.
Even so, Kellogg's struggles with its U.S. breakfast category, which includes Fruit Loops and Frosted Flakes cereals, have persisted: Sales dropped again in its most recent quarter, extending a slump that dates back to at least 2016. Across the industry, U.S. cereal sales and volumes have been declining for at least the past four years, according to IRI data.
Increased advertising is starting to turn the segment's performance around, Cahillane said.
"If we cut back on advertising to make a profit number, then where do we go from there?" Cahillane said. "This type of business only works if you get the top line growing."