Kazakhstan Cuts Rates as Second Lockdown Batters Economy
(Bloomberg) -- The Kazakh central bank cut interest rates as the economy took a fresh blow from a second wave of coronavirus infections.
The National Bank of Kazakhstan cut the base rate by 50 basis points to 9%, according to an emailed statement. The decision was forecast by one of three economists polled by Bloomberg. The rest expected no change.
Central Asia's biggest energy producer became one of just a handful of countries in the world this month to reinstate full coronavirus isolation restrictions. The four-week-long lockdown has put a fresh strain on the economy, which was already heading for its first annual contraction in more than two decades.
Rates were cut due to "weakening of pro-inflationary risks and a stronger contraction in economic activity" than expected in the first half of the year, the central bank said. "The measures taken to tighten quarantine will have an additional disinflationary effect."
The central bank's rates corridor, formed from the overnight deposit and lending rates, was narrowed to plus or minus 1.5 percentage points around the benchmark. The move was made possible by a stabilization of financial markets and the adaptation of the economy to new conditions, the bank said.
The next rate decision is scheduled for Sept. 7, according to the statement.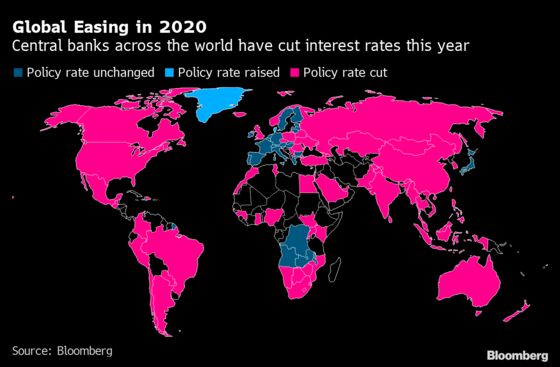 Measures taken to protect the Kazakh tenge during the slump in oil prices earlier this year reduced flows into dollar deposits, creating scope for monetary easing, the central bank said.

Kazakhstan boosted FX sales by about a third in June to $1.7 billion, as a pickup in economic activity spurred demand

The government announced more than 6 trillion tenge ($15 billion) of support for the economy during the first lockdown that ended May 11. This month President Kassym-Jomart Tokayev ordered the central bank and government to come up with more measures to stimulate the economy.
Annual inflation rose 0.3 percentage point to 7% y/y in June; the central bank forecast that price growth will accelerate to 8%-8.5% by the end of the year before decelerating to the upper limit of the target band of 4%-6% in 2021.
Kazakhstan will further reduce crude oil production in August and September to compensate for a surplus earlier this year under the OPEC+ deal.