Kavanaugh Confirmation Odds Bounce Back on Prediction Markets
(Bloomberg) -- The Brett Kavanaugh market has caught a bid. The odds that Kavanaugh will be confirmed to the Supreme Court are shortening on the PredictIt prediction market, as Washington, Wall Street and just about everyone else awaits the hearing on Capitol Hill on Thursday.
A "yes" share now costs 63 cents compared to 39 cents for a "no" bet as of 9 a.m. in New York. A correct wager pays out $1 per share.
Sexual assault allegations against Kavanaugh pushed the cost of "yes" shares to as low as 26 cents on Sunday -- closing at 36 cents. That's when the New Yorker reported that a second woman had stepped forward with an accusation of sexual misconduct, this time during his college years at Yale University. The Senate Judiciary Committee will hear testimony on Thursday from a woman who claims he sexually assaulted her when they were in high school.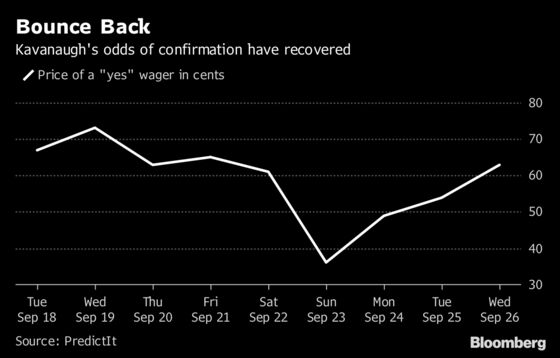 Kavanaugh has denied the allegations, and President Donald Trump on Tuesday said he stood firmly behind the nominee. Since then online prognosticators have driven up the cost of affirmative bets on the highest trade volume seen in the last week.