Jyske's CEO Says His Bank Isn't Facing a Money-Laundering Fine
(Bloomberg) -- The chief executive officer of Jyske Bank A/S, Anders Dam, said he isn't expecting to have to pay fines for anti-money laundering breaches following an inspection by the financial regulator last year.
The Financial Supervisory Authority in Copenhagen visited Denmark's second-biggest listed lender in 2017 and has since provided Jyske with a draft of its report, Dam said in a statement on Tuesday. He says the bank is now in dialogue with the regulator.
"The money laundering report in draft states some administrative orders but neither fines nor notices of any police report," he said.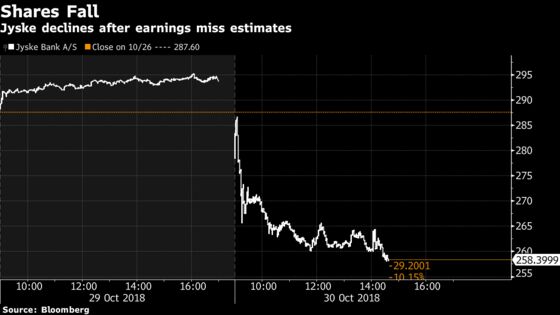 Denmark's biggest lender, Danske Bank A/S, is the target of multiple criminal investigations after admitting that much of about $230 billion that flowed through a tiny unit in Estonia may need to be treated as suspicious. It is due to publish its third-quarter results on Thursday.
Jyske's comments on laundering came as shareholders dumped its stock following disappointing third-quarter results. The bank sank as much as 12 percent, marking its worst selloff in a decade.
Analysts at Citigroup said Jyske failed to deliver on net interest income, while impairments were bigger than expected, calling the quarterly numbers a "weak set of results."