Crocs Seizes On Pandemic Popularity, Gets Into the Junk-Bond Market
(Bloomberg) -- Crocs Inc., the colorful clog maker made cool again thanks to Justin Bieber and Bad Bunny, is seizing on its unprecedented popularity and cheap financing to borrow in the U.S. junk-bond market for the first time ever.
The company sold $350 million of eight-year bonds at a yield of 4.25% Tuesday, according to a person familiar with the matter. The amount was up from a planned $300 million, and the borrowing cost on the lower end of initial price discussions. The proceeds will help pay down $180 million of bank debt and general corporate purposes, Niwot, Colorado-based Crocs said in a statement Monday.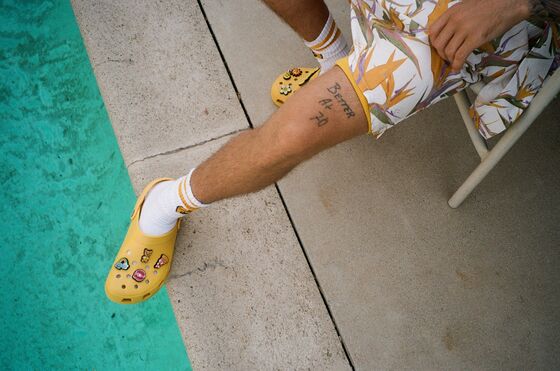 Crocs has seen its popularity surge throughout the pandemic, as stuck-at-home shoppers sought out comfortable shoes and a string of celebrity partnerships fueled momentum for the brand. The collaborations sold out within minutes, with demand for the Bieber line crashing the website. Crocs posted record sales in 2020, and shares have surged 250% from a year ago.
With the bond sale, Crocs -- which is rated three steps below investment grade -- is the 20th company to debut on the high-yield market so far in 2021, compared with three companies in the same span a year earlier, according to data compiled by Bloomberg. Companies are rushing to tap historically low borrowing costs that may be headed higher, while their soaring equity valuations are helping buoy investor demand.
"The market caps are much larger on these companies than we used to see in the high-yield market and, even at the very low rate for the issuers, the risk of default is negligible," said Bill Zox, a money manager at Diamond Hill Investment Group. "The yields are very attractive compared to investment-grade alternatives globally."
Investors looking for higher returns in a zero-rate environment have been clamoring for junk bonds all year, pulling average yields to a record low of 3.89% in mid-February. Those levels have since risen to 4.41% as of Monday, but are still well below the average of 6.2% over the last five years, according to data compiled by Bloomberg.
Moody's Investors Service assigned Crocs a Ba3 rating, citing the company's history of weak earnings prior to 2018, when it started closing unprofitable stores and narrowing its product line. Since then, Crocs has significantly improved its profit margins and liquidity, the ratings company said.