Jurassic World's Latest Evolution Tops Box Office in First Week
(Bloomberg) -- "Jurassic World: Fallen Kingdom" topped the box office with a $100 million-plus debut, only the second time ever that films have roared past that mark in back-to-back weekends.
The fifth movie in the franchise based on a fantasy dinosaur theme park collected $150 million in theaters in the U.S. and Canada, ComScore Inc. estimated Sunday in an email. The film beat forecasts of about $129 million by Box Office Pro. It follows last weekend's debut of more than $100 million debut for Walt Disney Co.'s "Incredibles 2," which this weekend added sales of $80.9 million to take second place.
"Fallen Kingdom" via Universal Pictures and Steven Spielberg's Amblin Entertainment was the only new wide release this weekend. It's the second rebooted feature from a franchise that originally started back in 1992 with "Jurassic Park," directed by Spielberg, and which has since raised $4 billion globally.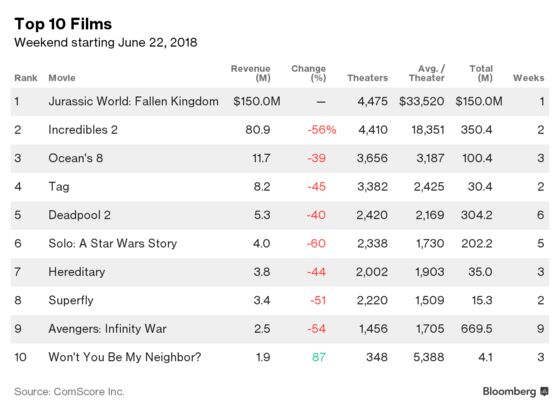 The film has already been open as long as three weekends in some other parts of the world. The worldwide total has now reached $711.5 million.
Critics were split over the movie and although the filmakers welcome a $100 million-plus debut, it pales in comparison to the $209 million that the 2015 release "Jurassic World" collected in the first weekend. Universal is already preparing a third film in the series for 2021.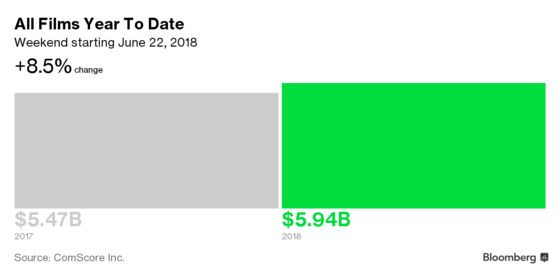 The new story is set three years after dinosaurs escaped their confines at the luxury resort Jurassic World and ran amok. The island has since been abandoned but an erupting volcano threatens to wipe out the dinosaurs. Chris Pratt reprises his role as the fearless Owen Grady, who returns with Bryce Dallas Howard as Claire Dearing who campaigns to protect the animals. Together they try to save the creatures and a crew of hunters who want to sell them to the highest bidder.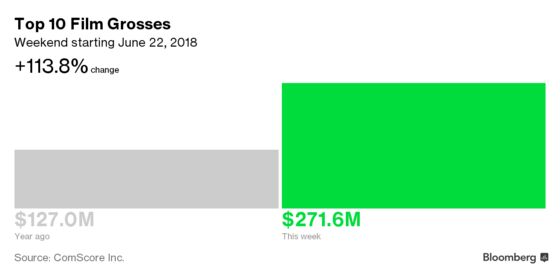 The movie cost $170 million to make before marketing costs, which can add millions more, according to Box Office Mojo. Only 54 percent of critics gave the movie positive reviews, according to Rottentomatoes.com. The studio was expecting to bring in around $130 million, a strong result as parent company Comcast Corp. battles Disney for control of 21st Century Fox Inc.'s entertainment assets.