Junkiest Junk Bonds Are a Shelter in the Global Equity Storm
(Bloomberg) -- The riskiest U.S. bonds are holding their own in the midst of the global equity swoon, suggesting the smart money in credit markets isn't fretting over the outlook for growth.
While the S&P 500 Total Return Index is down about 6 percent this month, the sell-off in the riskiest corner of the cash bond market is mild -- in contrast to the February correction across risk assets.
Junk bonds have fallen by just 1.26 percent, while the sector acutely vulnerable to the trajectory of the U.S. economy and tighter financial conditions -- debt rated CCC -- has dipped by a similar clip.
These lower-rated obligations have handed investors a 4.65 percent return so far this year, despite two large equity drawdowns that have whittled down the advance in U.S. stocks to just over 3 percent.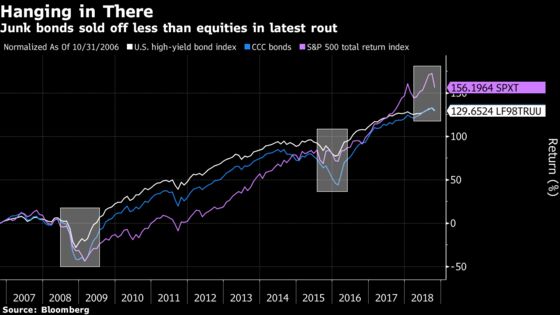 "High yield is not confirming the downside move in equities and high yield is usually right," Tom Lee, head of research at Fundstrat Global Advisors, wrote in a note. "Macro developments impacting equities also impact high yield — for instance, late-cycle fears would hit both as would earnings-per-share-risk from trade tensions."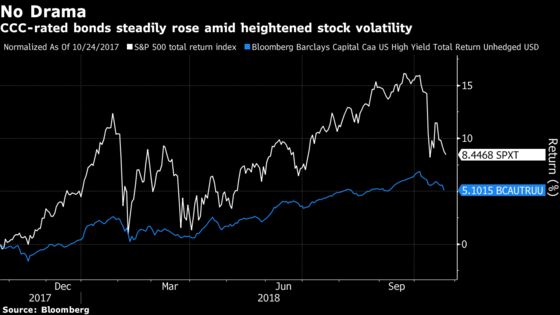 When equities were hit by pronounced slide between August 2015 and February 2016, CCC bonds fell almost 20 percent as deflationary fears hit global markets.
Sure, you can thank technical factors right now like benign supply as well as the hunt for lower-duration assets. And then there's portfolio "barbelling," in which investors buy bonds at both ends of the risk spectrum, at the expense of obligations in the middle like high-grade debt.
But the feat is all-the-more impressive considering the energy sector has an outsize weighting in the CCC index -- and the oil price has declined as much as 10 percent this month alone.
It may be too much of a good thing.
As equity volatility stays elevated, bond funds see accelerating outflows and fears over the sustainability of the aging business cycle intensify, credit could become the canary in the coalmine soon enough.
"The HY market has become quite vulnerable to a resurfacing of recession fears," Goldman Sachs Chief Credit Strategist Lotfi Karoui wrote in an Oct. 23 note, recommending clients snap up investment-grade debt instead. "This is particularly the case for CCC-rated bonds."
RELATED: J O Hambro's Topcuoglu Dumps CCCs as Junk Party Drags Out: Q&A
Junk Bonds' Incredible Shrinking Premiums Make CCCs Pricey
Reduce Exposure to CCC Rated Junk Bonds, Bank of America Says