Junk Bonds Eclipse Peers in Emerging Markets By Most in 20 Years
(Bloomberg) -- To get a sense of how much global investors are embracing risk, look no further than emerging-market junk bonds.
Developing-nation debt in the CCC and CC categories is handing investors 10 times the returns of investment-grade bonds, data for the past month show. A Bloomberg Barclays gauge of high-yield securities is outperforming its higher-rated counterpart by the most in 20 years and has erased the yield surge caused by the March rout.
Investors are getting adventurous as they bet on a revival in global economic activity and the Federal Reserve pledges to continue its accommodation at least until 2022. The rebound from the selloff sparked by the coronavirus is now moving to a new phase, in which riskier nations and assets are coveted by yield-hunters.
The ratio between the Bloomberg Barclays EM High Yield Total Return Index and a similar gauge for investment-grade bonds increased 3.7% last week, the biggest jump since June 2000. The relationship is tilting in favor of junk bonds for a seventh successive week.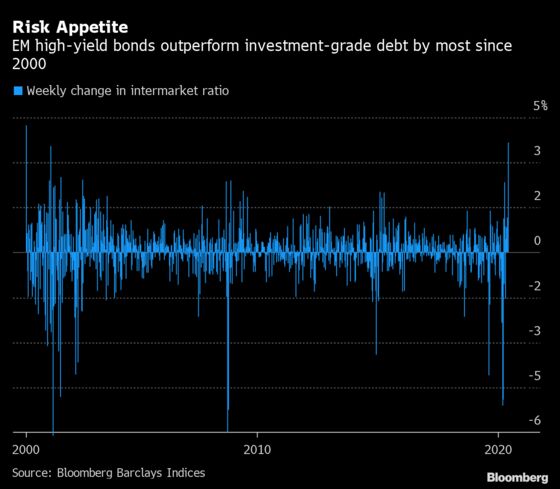 The premium investors demand to own emerging-market high-yield bonds rather than higher-rated debt has fallen to levels last seen at the end of February. That marks a halving of that spread, from 11.3 percentage points in early May to 5.4 percentage points. In other words, the Covid-19 pandemic isn't imposing a yield-penalty on junk bonds anymore.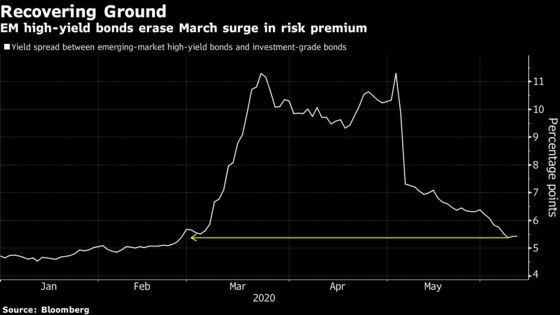 CC rated bonds in the Bloomberg Barclays EM USD Aggregate Total Return Index have posted a 27% gain in the past month, outperforming every other group, according to Bloomberg Composite Ratings. The return from AA rated bonds is just over 2%, the worst performance in the gauge.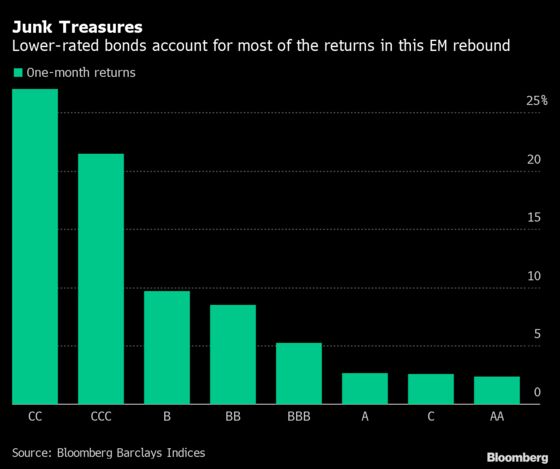 The resurgence of junk bonds is a signal that the yield-hunting trend, which has been the hallmark of every emerging-market advance in recent years, is truly back. This looks set to continue after the Fed said Wednesday it will do whatever it can for as long as it takes to support an economic recovery.