July's Been Good But Emerging Assets Aren't Out of the Woods
(Bloomberg) -- Don't be fooled by July's gains: the causes of emerging-market turmoil haven't gone away, according to investors including Fidelity International and Amundi Asset Management.
Developing-nation debt is heading for the first monthly gain since March and stocks are set for the first advance since January after a sharp sell-off in the second quarter made valuations appealing. Carry-trade investors will have their first positive return in four months as emerging currencies close the month with a small loss.
Read More: Emerging-Market Traders Shift Focus to BOJ Amid Volatility Bets
The ray of hope may not last long. The risks posed by a stronger dollar, escalating trade war, tighter liquidity by central banks in rich nations and political risks in various developing nations are likely to weigh on emerging-market assets in coming months.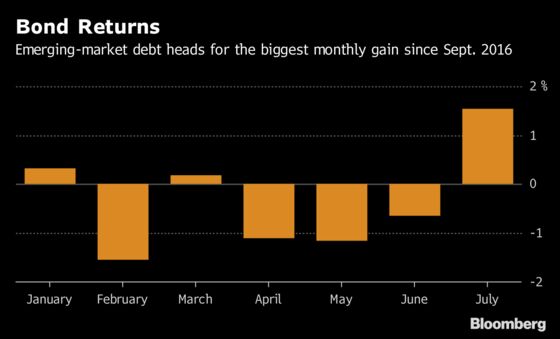 "We might see another correction between now and October," said Zsolt Papp, a client portfolio manager at JPMorgan Chase & Co.'s asset management unit, which oversees $1.7 trillion. "If it is stabilization, we're in early stages of it. There is still a tail risk that volatility will stay high."
The yield on emerging-market hard currency debt rose to its highest level in more than two years on June 19, enticing three consecutive weeks of flows into developing-nation debt funds, according to Bank of America Merrill Lynch, citing EPFR data. The yield on the debt fell for the fourth day and closed at 5.1 percent on Friday, according to Bloomberg Barclays indices.
July was an exceptional month because bond redemptions, coupons and amortizations meant emerging-market funds were flush with cash as new issuance slowed to the lowest level since 2015, leaving them with little alternative but to stock up in the secondary market, according to Fidelity International.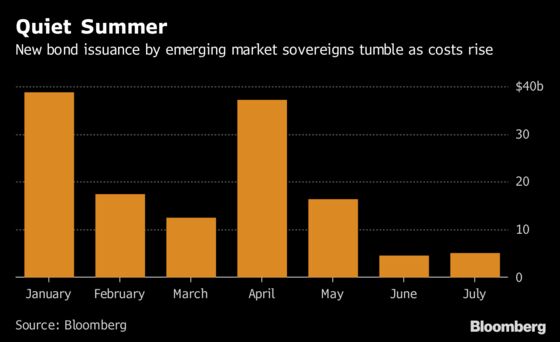 The amount of dollar- and euro-denominated government debt coming due from emerging markets will drop to $16 billion in the next two months from $46 billion in June and July, according to data compiled by Bloomberg.
"We don't think this is the beginning of a sustainable rally," said Paul Greer, a London-based emerging market money manager at Fidelity, which oversees $431 billion. "That coupon and amortization schedule gets a lot worse in August."
In addition to the dollar, trade tensions and policy tightening in developed nations, investors are fretting about political developments in nations like Argentina, Turkey and South Africa, which are already vulnerable due to volatile currencies and large current-account deficits.
"The market is still rather fragile," said Sergei Strigo, the co-head of emerging-market fixed income at Amundi Asset Management, which oversees $1.7 trillion. "I would not say this is the end of the story. The main question in some of the countries is how bad it's going to get and what's priced in."