JPMorgan Turns Bullish on Gilts as Brexit Uncertainty Mounts
(Bloomberg) -- The gilt market is the place to shelter from Brexit.
After the securities were dismissed by investors as too expensive in the run-up to the Bank of England's interest-rate increase last month, the yields on benchmark U.K. government bonds have climbed, prompting JPMorgan Chase & Co. to predict demand will increase.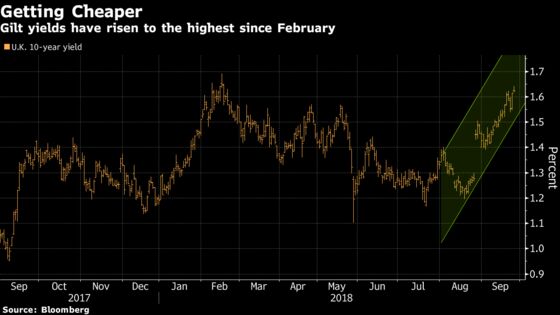 Investors should buy the 10-year notes as rising Brexit uncertainty in the coming weeks will support gilts, according to strategists at the U.S. bank, who also see the market pricing in too much tightening from the BOE over the coming years.
"Gilt yields have risen on the week driven by a combination of stronger inflation and a sell-off in dollar rates," said the analysts, including fixed-income strategist Francis Diamond. They recommend a tactical long in gilts given that yields are near the upper end of this year's range, and "see risks that market expectations of a no-deal Brexit can increase."
The rate on the 10-year note gained two basis points to 1.63 percent on Tuesday.