JPMorgan Shares Slip as Investor Day Disappoints Wall Street
(Bloomberg) -- JPMorgan shares fell as much as 2 percent in early Tuesday trading, the most intraday since Feb. 8, as the bank is holding its investor day. Analysts flagged rising expenses, along with expectations for slower lending and deposit growth, and noted it failed to lift its 17% Rotce target.
Lower trading revenue is another negative; co-president Daniel Pinto said first-quarter trading revenue may decrease by a high-teens percent, with weakness driven by slower equities and emerging markets.
JPMorgan shares underperformed peers, leading the KBW Bank Index lower on Tuesday. Year-to-date, share are up 7.1 percent versus an 18 percent gain for Bank of America Corp., a 23 percent jump for Citigroup Inc., and an 16 percent rally in the KBW Bank Index.
CEO Jamie Dimon is due to speak at 1:30 p.m., when he may face questions about growth, market share, payments plans and its new digital currency. Follow our live blog for news and analysis during the day.
Here's a sample of what some analysts are saying:
Morgan Stanley, Betsy Graseck
Presentation slides suggest a 3 percent "hit" to Morgan Stanley's 2019 EPS estimate, Graseck wrote in a note. The biggest delta versus Morgan Stanley estimates comes from higher expenses and lower net interest income. An upfront CECL (Current Expected Credit Losses) hit was also higher than her estimate, which may point to higher costs at other banks.
Goldman Sachs, Richard Ramsden
Financial targets presented in the slides were "largely consistent with last year's targets and roughly in line" with Goldman and consensus estimates, Ramsden said in a note. He flagged JPMorgan's holding its medium-term ROTCE target flat at about 17 percent and reiterating an approximate 55 percent efficiency ratio target.
At the same time, a 2019 expense outlook of more than $66 billion topped Goldman's estimated $64 billion. Ramsden added that the bank gave initial CECL guidance as having a 30 percent to 40 percent-plus increase in reserves, largely in card.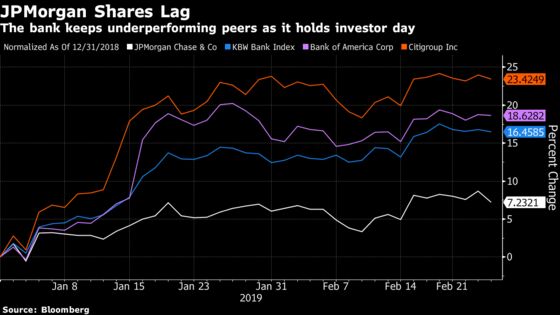 Credit Suisse, Susan Roth Katzke
The presentation contained "no surprises," Credit Suisse's Katzke wrote in a note. As expected, the bank kept its medium-term ROTCE target of ~17 percent, among other targets. And its near-term earnings outlook was "pretty much as anticipated," including less loan growth with focus on quality.
Evercore ISI, Glenn Schorr
JPMorgan is "still in the pole position," Evercore ISI's Schorr wrote in a note. The bank's "old school business by business review" noted better 5-year compound annual growth rates, along with "taking share in most businesses across loans and deposits, cards, trading, investment banking, securities services," Schorr said.
He saw keeping the Rotce target at about 17 percent, which leads peers, as a positive, and noted the bulk of the increase in likely 2019 expenses comes from investments. He also liked "lots of slides highlighting the technology initiatives and innovations in wholesale payments and securities services."
Bloomberg Intelligence, Alison Williams
"A stable 17% ROTCE target near-term is positive for JPMorgan, though some investors may have wanted more," Williams said. "There were a few underlying trends that were a bit more negative on the margin for the outlook," like costs of $66 billion versus a consensus estimate of $65.2 billion.
Slowing industry deposit and loan growth aren't surprising, "but some may have hoped for better."