JPMorgan Sees Wealth Tax Chance Less Than 5%, Even With Sanders
(Bloomberg) -- There's a long way to go from Iowa to a wealth tax, according to JPMorgan.
"We put the probability of major changes like Medicare-for-all or a wealth tax at less than 5%," analyst Jesse Edgerton wrote on Friday, noting that after the Iowa caucus, Bernie Sanders leads the Democratic field in election models and prediction markets.
Edgerton sees a very low probability that "dramatic" policy proposals from Sanders or Elizabeth Warren will be enacted, as the Democratic nomination process is far from over and the likelihood of a victory by Donald Trump "looks close to a coin flip," with prediction markets putting the president's re-election chances a bit above 50%. "Even if Senator Sanders were to become president, there would still be many checks and balances on his ability to act," Edgerton added.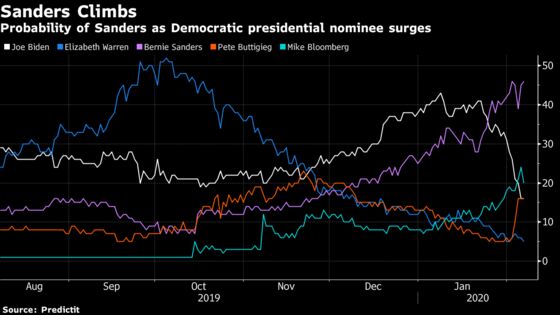 Read more: Dec. 20, JPMorgan Turns Bullish on Managed Care as Political Fears Ease
Sanders, Pete Buttigieg and other candidates will meet to debate face-to-face on Friday night in Manchester, New Hampshire.
Read more: Feb. 4, Iowa Chaos Strengthens Trump's 2020 Chances: Wall Street Votes
(Michael Bloomberg is seeking the Democratic nomination. He is the founder and majority shareholder of Bloomberg LP, the parent company of Bloomberg News.)