It's Too Early to Call an End to the Dollar Rally, JPMorgan Says
(Bloomberg) -- It's still too early to call the end to this year dollar's rally, according to J.P. Morgan Asset Management.
The greenback has gained more than 6 percent from this year's low in February thanks to an expanding U.S. economy and haven bids, and there may still be some upside left, Tai Hui, a global market strategist at the asset manager in Hong Kong, wrote in emailed comments.
"It may be premature to call this the end of the USD rally," Hui said. "The greenback has been on a rapid ascent in recent months due to reduced risk appetite and outperformance in U.S. economic growth and equity performance."
J.P. Morgan Asset joins hedge fund giant Man Group Plc in forecasting further strength in the greenback this year as escalating U.S.-China trade tensions fuel demand for the currency. The Bloomberg Dollar Spot Index climbed to a 13-month high last week as the trade dispute and financial turmoil in Turkey led to a selloff in emerging-market assets.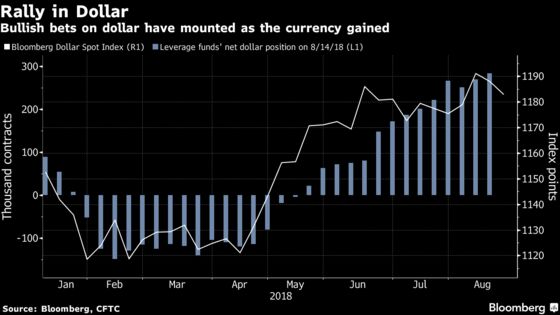 The dollar dropped for a fourth day on Tuesday as President Donald Trump was said to have complained about the Federal Reserve's interest-rate increases while accusing Europe and China of currency manipulation.
While this week's retreat will probably prove temporary, at some point the dollar is likely to run out of steam, Hui said.
"Speculative positioning is at its highest since 2017," he wrote. "This doesn't imply imminent correction but this technical factor does suggest limited room for more appreciation."
At the same time, the U.S. economy is running a sizable current-account deficit, which needs the dollar to weaken to rebalance, he said.
Morgan Stanley and Wells Fargo & Co. also argue the currency is nearing its peak as U.S. economic growth slows just as other major central banks begin to unwind their ultra-loose monetary policy.