JPMorgan Investor Day Triggers New Pessimism, Estimate Cuts
(Bloomberg) -- Some Wall Street analysts are reevaluating their capital markets revenue and earnings assumptions after JPMorgan Chase & Co. said first-quarter trading revenue may tumble and that it faces rising expenses and slower lending.
Richard Ramsden, an analyst with Goldman Sachs, expects capital markets revenue for JPMorgan, Bank of America Corp., Citigroup Inc. and Morgan Stanley will drop an average of 11 percent year-over-year in the first quarter. He sees "some recovery through the balance of the year with 2019 capital markets estimates down only 1 percent." Ramsden's outlook was influenced by comments by executives at both JPMorgan and at Morgan Stanley, as well as by "industry data suggesting lower volumes across trading and banking products."
The government shutdown may have pushed some activity into later in the year, he added, and some of the "weaker performance in trading could normalize later in the year." Ramsden also flagged stronger market trends in wealth and asset management so far this year, with the S&P 500 rallying about 11.5 percent, which should support asset growth and higher wealth fee revenues. He cut first-quarter earnings estimates by an average 3 percent for banks including Wells Fargo, BofA, Morgan Stanley and Citigroup.
Jefferies analyst Ken Usdin cut his 2019 and 2020 earnings-per-share estimates for JPMorgan, as the bank's outlook "feels conservative, but logical given macro/micro considerations." At KBW, Brian Kleinhanzl also cut his estimates for this year and next as his "earnings estimates were previously too optimistic."
JPMorgan is "near its optimal returns," as revenue growth is expected to moderate with rising deposit costs, lower investment banking "wallet" and difficult year-over-year capital markets comparisons in the first quarter, Macquarie's David Konrad wrote in a note. He cut estimates for 2019 due to lower revenues, though lifted 2021 estimates due to lower expenses, and reduced his price target to $115 from $120.
Morgan Stanley's Betsy Graseck took her forward earnings estimates for JPMorgan down, too. But she added that JPMorgan's "push for top-line growth," along with lower costs due to tech investments, should help the bank reach an above-target 18 percent Rotce by 2020, with some upside to earnings -- if loan losses stay flat.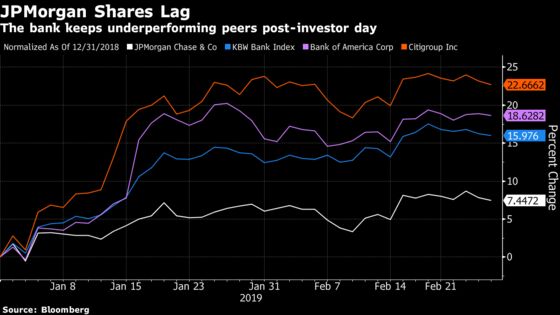 JPMorgan shares fell nearly 0.7 percent in early Wednesday trading. They've underperformed peers this year, gaining 7.5 percent versus a 19 percent gain for BofA, a 23 percent jump for Citigroup, and a 16 percent rally in the KBW Bank Index.