JPMorgan Favors Petrobras Over Vale in Battle of Brazilian Stocks
(Bloomberg) -- For investors looking to get in on the equity boom in Brazil via commodity titans Vale or Petrobras, JPMorgan has some ideas about the best bet.
The bank examined output growth, costs, capital expenditure, profitability, free cash flow, valuation and the outlook for commodities. Its conclusion: Oil giant Petroleo Brasileiro SA is the most appealing option for stock pickers.
While Vale SA, the world's biggest producer of iron ore, benefits from higher profitability and an attractive valuation, Petrobras has a more attractive structural case, JPMorgan analysts Rodolfo Angele and Ricardo Rezende wrote in a report Jan. 22.
The analysts noted Petrobras's shift toward loosening its operational ties to the state over the past three years amid new Chief Executive Officer Roberto Castello Branco's move to oust the last top executives nominated during the Workers' Party governments. Moreover, Castello Branco has vowed to increase oil production, reduce debt and proceed with the firm's divestment program.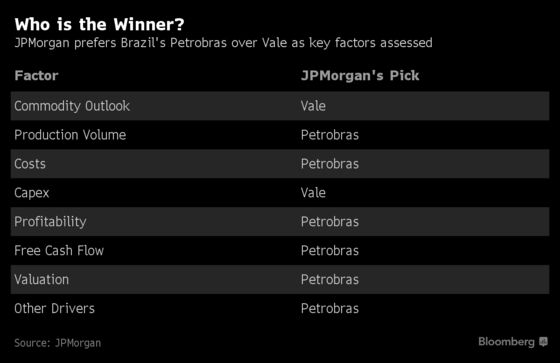 JPMorgan also sees potential gains coming from asset sales and a bill in Brazil's Congress that would allow Petrobras to sell offshore crude reserves to other drillers. The bank predicts output will pick up this year, boosting free cash flow and helping the company deleverage.
JPMorgan has buy recommendations for American depositary receipts from both Vale and Petrobras, and likes Petrobras preferred shares over the common stock.