JPMorgan Slashes U.S. Yield Forecasts on Trade-War Shock
(Bloomberg) -- JPMorgan Chase & Co. slashed its targets for U.S. Treasury yields, anticipating that the pressures of the trade war will hobble American economic growth and force the Federal Reserve to cut interest rates.
"The latest developments this week are likely to have lasting damaging effects on business confidence," JPMorgan analysts led by Matthew Jozoff and Alex Roever in New York wrote in a note following President Donald Trump's move to impose tariffs on Mexico. "Growth concerns are unlikely to dissipate over the near term, and could in fact build further."
JPMorgan sees 10-year Treasury yields at 1.75% at year-end, compared with 2.45% previously and 2.08% on Monday in London trading. The forecast for March is 1.65%
The bank sees two-year yields at 1.40% in December and 1.30% in March
The Fed is seen cutting the policy rate by a quarter point in September and December
U.S. GDP growth projected at 1% for second quarter, 1.5% in third quarter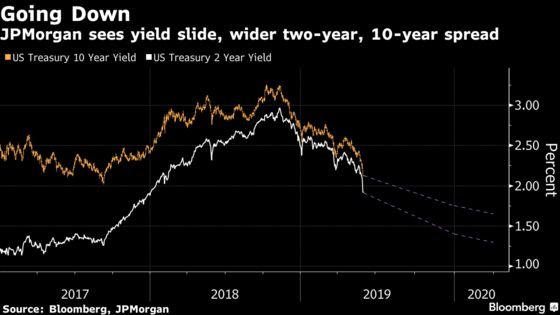 The projections are a contrast with JPMorgan Chief Executive Officer Jamie Dimon's warning last month that yields were already "extraordinarily low" on an historical basis, and that 4% wouldn't be a bad number. His comments pre-dated the latest trade-war developments.
It's also a contrast with Goldman Sachs Group Inc., where analysts still see 10-year yields at 2.80% at year-end. While "the dam broke on Friday in the wake of the Mexico" announcement, with forecasters rushing to project Fed rate cuts in the second half of 2019, Goldman economists including Jan Hatzius held fast, they wrote in a note to clients Sunday.
Goldman highlighted potential Fed concern about "the longer-term credibility and political independence of the institution" given Trump's pressure on the central bank to ease policy.
Natwest Markets economists were in line with JPMorgan, now projecting rate cuts in September and October. "Cheap insurance" to keep the U.S. expansion going, Natwest's Michelle Girard and Kevin Cummins wrote Friday. Natwest sees 10-year yields dropping to 1.85% by year-end.
At Morgan Stanley, the cross-asset strategy team's model has flipped to "downturn" from "expansion" for the first time since 2007, and the bank's economists have warned about the risk of a global recession if the trade war worsens. The strategy group, including New York-based Serena Tang, reiterated its overweight recommendations for Treasuries and cash.
Despite their new forecasts, JPMorgan's strategists warned against jumping on the current Treasuries rally, saying that they maintain a neutral call for duration. "We are hesitant to initiate longs given the pace of the rally over the last two weeks and the substantial uncertainty that remains around the path forward for trade policy."
For their part, JPMorgan equity strategists led by Mislav Matejka still see the potential for gains in global stocks before the next American recession, bolstered by policy support and, in the U.S., buybacks.