JPMorgan Banker Takes Leave to Help France's Eric Zemmour
(Bloomberg) -- Jonathan Nadler, a Paris-based banker at JPMorgan Chase & Co., has taken a sabbatical from the U.S. firm to help French far right presidential candidate Eric Zemmour in his campaign.
The associate has taken a 6-month leave, but is staying as part of the bank's workforce, a JPMorgan spokeswoman said by phone. "He is operating in a personal capacity, in which JPMorgan has no involvement," she said.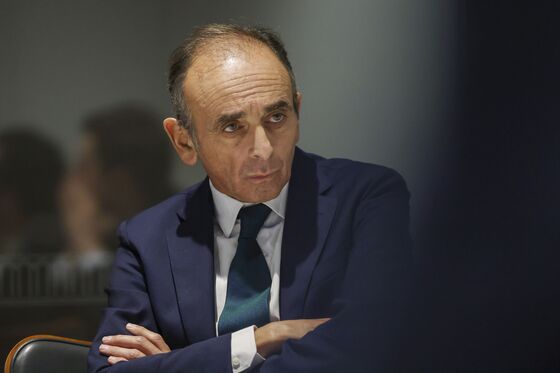 A representative for Zemmour wasn't immediately available to comment or put Bloomberg in contact with Nadler. Calls to his landline at JPMorgan weren't immediately returned. 
On Tuesday, Zemmour announced that he'll be running for president in France's election next year, ending months of speculation. The candidate and best-selling author who's been sanctioned for inciting racial hatred, partly styles himself on anti-establishment figures such as Donald Trump. 
Zemmour lost momentum in the polls after a series of recent mishaps that include a trip to London to court expatriate bankers that didn't go entirely to plan. He's currently trailing behind incumbent president Emmanuel Macron and National Rally leader Marine Le Pen.
But Zemmour could still end up in the second round of April's vote instead of Le Pen. Or, he could split the far-right vote enough to allow a more moderate candidate to qualify for the run-off, upsetting Macron's chances of returning to the Elysee.  
Nadler, a junior banker with about five years of experience, is helping Zemmour's team set the key points of his platform, particularly on economic policies, according to a person with knowledge of the matter.
It's not a topic Zemmour often discusses. In an interview during his trip to London, he said his supporters care more about immigration and the future of France than the economy.