Johnson's ICU Move Puts All Hands on Deck to Avert the Worst
U.K. Prime Minister Boris Johnson's move to a London intensive-care unit is aimed at avoiding the most severe consequences of the coronavirus at a point when the illness sometimes takes a turn for the worse.
Johnson, 55, was transferred to the unit Monday at St. Thomas' Hospital after his symptoms worsened more than 10 days into the illness. There, doctors will work to keep him from suffering from severe pneumonia and respiratory distress that can lead to some of the virus's worst consequences -- including, for some patients, death.
In the intensive care unit, Johnson will be subject to round-the-clock monitoring of his heart and other body functions. Doctors and nurses trained in caring for the sickest patients will be prepared to respond to any worrisome changes in his status. Caregivers have support equipment like oxygen and ventilators quickly to hand if needed.
At St. Thomas', across the river from the Houses of Parliament, Johnson is receiving oxygen treatment to help his breathing, but is conscious and not on a ventilator, officials said. That's a crucial detail because it gives him a better prognosis.
Half of Covid-19 patients moved to the ICU survived in a recent report from the U.K.'s Intensive Care National Audit and Research Centre, but the survival rate rose to 70% if they didn't require mechanical ventilation in the first 24 hours.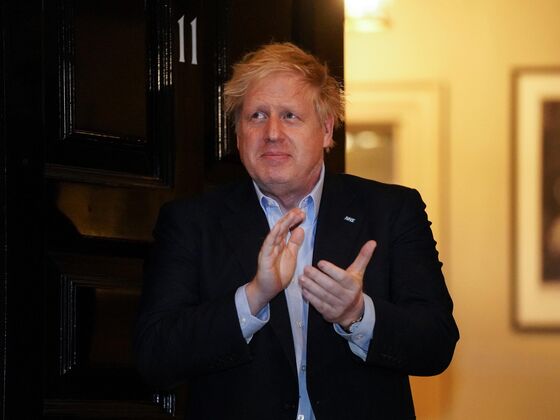 Coronavirus symptoms normally begin as persistent dry cough and fever. While a majority of cases are mild, some patients develop acute respiratory distress syndrome, or extreme difficulty breathing that's often accompanied by inflammation of the lungs. That may be followed by sepsis, a type of widespread infection that can lead to failure of other systems in the body, like the heart and kidneys.
Patients in intensive care are typically connected to equipment by a number of tubes, wires and cables to closely monitor their condition until they recover, and normally there is one nurse for every one or two patients.
The length of stay on critical care tends to be short. Most patients with coronavirus who survive are discharged from critical care back to general wards in four days whereas most of those who die do so within about five days, according to the report from the research center.
Besides mechanical ventilation, which requires sedation because a breathing tube gets inserted in the patient's wind pipe, St. Thomas' has at least two other options for Covid-19 patients like Johnson.
Johnson doesn't have pneumonia and "is receiving standard oxygen treatment and is breathing without any other assistance," spokesman James Slack said in a briefing. "He has not received mechanical ventilation or non-invasive respiratory support."
Should he develop severe lung failure, St. Thomas' is one of five centers in the U.K. with a temporary life-support machine called extracorporeal membrane oxygenation, or ECMO, which can take over the function of both heart and lungs.
The pandemic has highlighted shortages in the U.K. health system. At least a third of National Health Service trust chiefs surveyed by the Health Service Journal reported that they would soon run out of intensive-care capacity.