J&J Shares Slip as Covid-19 Trial Pause Overshadows Outlook
(Bloomberg) -- Johnson & Johnson shares fell after the drugmaker was forced to pause its late-stage study of a coronavirus vaccine, overshadowing an improved financial outlook for the year.
The temporary halt in the trial after one participant became ill unnerved investors in spite of the company's sound business performance and could add to concern about the rapid pace of coronavirus vaccine research. J&J said adverse events are an expected part of drug studies and that it's investigating. The shares fell 1.9% at 11:15 a.m. in New York.
J&J was notified about the person's illness 36 hours ago and immediately approached the independent Data Safety Monitoring Board to conduct an analysis, Chief Financial Officer Joseph Wolk said. The company also paused dosing other participants.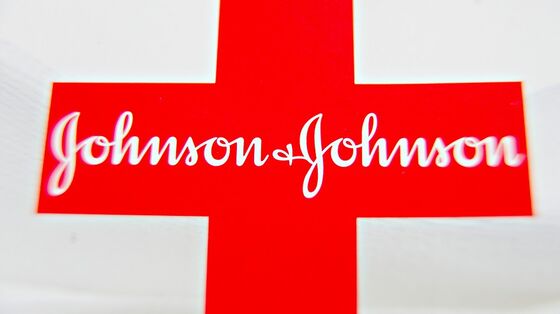 J&J doesn't know whether the person received the vaccine or a placebo, as patient information remains blinded to the company at this time, Wolk said in an interview. "We need to let the independent board do their research," he added.
Based on what is known about the trial, some information about the person who became sick could be outlined, according to analysts.
"Although we can't pin down the age group, we can safely conclude from trial design that the participant with illness was healthy coming into the trial, and did not have comorbidities," Evercore ISI analyst Umer Raffat said in a note.
The company is sticking to its plan to expand manufacturing capability to producing 1 billion doses a year of the adenovirus-based vaccine, Wolk said. It expects to have data about the drug's safety and effectiveness from the 60,000-subject study before the end of the year, with potential for an emergency-use authorization in the U.S. at the outset of 2021.
J&J notified Operation Warp Speed, the White House-led effort to accelerate Covid vaccine development, and also contacted regulators in the U.S. and international markets of its plan to pause the trial. "It's simply a notification at this point until we find out more from the independent board," Wolk said.
The company said it had paused the trial on its own, and that it wasn't on a regulatory hold ordered by the U.S. Food and Drug Administration.
The rosy forecast alongside the research setback underscored the health-care conglomerate's reliance on blockbuster cancer drugs and consumer products even as the pandemic creates upheaval in other areas.
Multiple myeloma therapy Darzalex brought in $1.1 billion in third-quarter revenue, the company said Tuesday in a statement, beating analysts' expectation of $1 billion. U.S. sales of Tylenol, the over-the-counter pain reliever and fever fighter, rose as Americans restocked their medicine cabinets for the pandemic.
The outbreak continued to take a toll on J&J's medical-device unit, as persistent delays in elective procedures eroded sales in its surgery, orthopedics and vision businesses. The unit reported third-quarter revenue of $6.2 billion, a 3.9% decline year-over-year. The results were still better than analysts expected, and the company said it sees a strong recovery in the business this year.
"I think everybody kind of feared the worst back in April," Wolk said. "We've seen the hospital systems react remarkably well."
J&J boosted its full-year adjusted earnings forecast by 10 cents to $7.95 to $8.05 a share and increased its sales outlook. It's the second time this year J&J has raised its financial guidance. Wolk said the raise reflected the company's "balanced optimism."
"Even if a second wave or re-emergence of Covid happened selectively, we think in pockets and hotspots, hospital systems and the health-care system overall is in a better position to manage that," Wolk said.
Third-quarter sales at the News Brunswick, New Jersey-based company beat Wall Street expectations at $21.08 billion.
J&J also announced Tuesday that it will contribute up to an additional $1 billion to an all-in settlement amount to resolve opioid lawsuits filed and future claims by states, cities, counties and tribal governments. That's on top of an earlier $4 billion agreement announced by a committee of state attorneys general a year ago.