Johns Hopkins Displaces Harvard as Top Fundraiser in Record Year
(Bloomberg) -- Johns Hopkins University dislodged Harvard University as the top fundraiser among U.S. colleges, fueled by a $1.8 billion donation from Michael Bloomberg.
Schools raised almost $50 billion in the 12 months ended June 2019, a record year and the 10th consecutive period of increased donations, according to a study released Wednesday by the Council for Advancement and Support of Education.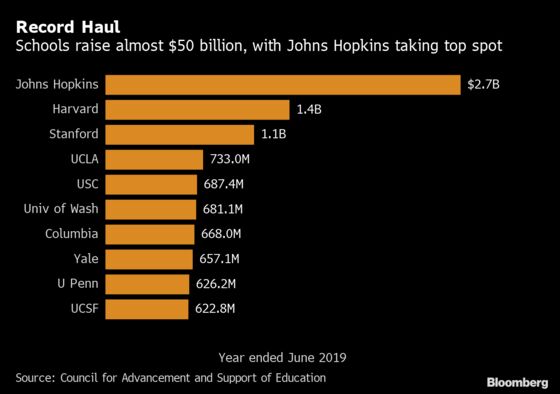 Hopkins brought in $2.7 billion after Bloomberg in November 2018 announced the gift for his alma mater to help low- and moderate-income students attend.
Bloomberg, a contender for the Democratic presidential nomination, is the founder and majority owner of Bloomberg News parent Bloomberg LP.
Harvard, the richest U.S. college, had topped the list every year since fiscal 2016. It raised $1.4 billion, followed by Stanford University at $1.1 billion, according to the data.