Billionaire Lewis Wins Another Big Bet as Hockney Smashes Record
(Bloomberg) -- Joe Lewis isn't afraid of big bets.
The currency trader made more than $1 billion short-selling the British pound and Mexican peso in the 1990s. During the 2008 financial crisis he loaded up on shares of Bear Stearns Cos. Over the decades, he's amassed a $5.8 billion fortune, which includes one of the world's largest private art collections and soccer team Tottenham Hotspur, according to the Bloomberg Billionaires Index.
Thursday night in New York, the 81-year-old placed a wager on the strength of the art market, and it paid off in a big way.
Lewis's painting by David Hockney -- "Portrait of an Artist (Pool with Two Figures)" -- sold for $90.3 million at Christie's, dethroning Jeff Koons as the most expensive living artist at auction. Koons, 63, held the title since 2013, when his orange balloon dog sold for $58.4 million. The highest price paid for an artist in a private sale belongs to Jasper Johns, whose "Flag" sold to hedge fund billionaire Steve Cohen for about $110 million in 2010.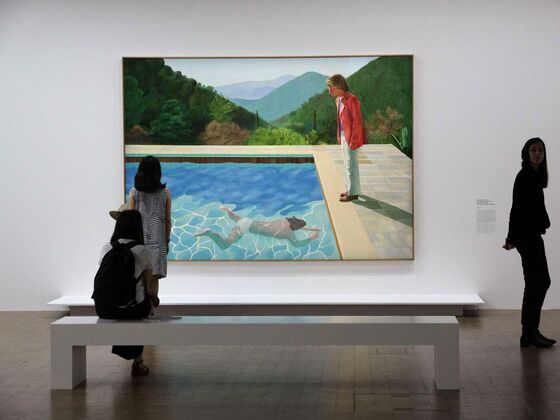 The Hockney had been estimated at an already-staggering $80 million. Even though prices for Hockney, 81, surged in recent months, the most expensive work -- 1990 landscape "Pacific Coast Highway and Santa Monica" -- fetched $28.5 million at Sotheby's in May.
Lewis declined a guarantee despite offers of about $80 million, according to people familiar with the matter who asked not to be identified because the details are private. He was so confident the Hockney would sell for more that he opted to offer it without a reserve, a minimum price at which the work can be hammered down.
"The strategy was new to everyone, including us," said Loic Gouzer, Christie's chairman of postwar and contemporary art.
It was a bold move because bidding technically can start at $1. After it was announced last week, "everyone was ringing to leave a bid," said Christie's President Jussi Pylkkanen, the evening's auctioneer.
On Thursday, at least seven parties vied for the Hockney, with a starting bid of $18 million. The final price of $90.3 million includes a $10.3 million buyer's premium. The purchaser was a client of Marc Porter, chairman of Christie's Americas.
Hockney's 1972 canvas depicts two men. One, fully clothed, stands at the edge of a swimming pool gazing down at another, who's submerged. The hilly landscape behind them was inspired by the South of France. The standing man is Peter Schlesinger, an artist and Hockney's ex-lover. Hockney was working on the painting at the time their relationship was ending.
Lewis, whose collection includes pieces by Picasso, Klimt and Degas, bought the Hockney from fellow billionaire collector David Geffen in 1995.
"He is someone who has an extraordinary eye," said Pylkkanen, who has known Lewis for years. "He has a fantastic collection of British artists. Freud is a passion of his."
The painting led Christie's postwar and contemporary evening sale that totaled $357.2 million, within the estimated range. A similar auction last year brought in $785.9 million, including Leonardo Da Vinci's "Salvator Mundi," which sold for $450 million.
This week's sales, which kicked off Nov. 11 and included Impressionist, modern, postwar and contemporary art, have generated $1.96 billion, eclipsing the $1.8 billion estimate. Auctions of lower-priced art continue Friday at Christie's.