New York Giants' Collapse Is Another Stain on Belichick's Record
(Bloomberg) -- As great a coach as Bill Belichick has been -- arguably the best in the history of the NFL -- his program is a failure when it comes to minting disciples able to strike out on their own.
This week brought the latest evidence of that. Two of his former assistants were dismissed after racking up one loss after another as head coaches. First, it was Brian Flores, sacked by Miami Dolphins management on Monday. Then, yesterday, it was Joe Judge's turn. He managed to only eke out 10 wins for the New York Giants in two abysmal seasons.
Over the past two decades, not a single former Belichick assistant has had true success on his own in the NFL. Some were mediocre. Others, like Judge, were awful.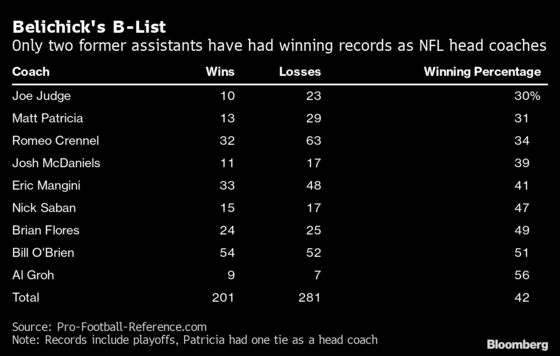 Some Belichick supporters will point to the incredible record that his disciple Nick Saban has compiled at the college level or the success that his former player Mike Vrabel is having as head coach of the Tennessee Titans as evidence of his ability to teach a winning formula. 
But still, the overall record of his former assistants speaks for itself. There's just something about the Belichick program that makes it hard to replicate. (The gold standard for establishing a coaching tree in the NFL has long been Bill Walsh, whose West-Coast offense philosophy proved to be a formula for success for one former assistant after another.) 
As for Belichick himself, it didn't take him long to get over the departure of his star quarterback Tom Brady. The New England Patriots are back in the playoffs this year and seeking a record seventh Super Bowl title.