Jerome Powell Hints at a Little Trouble With the Curve
(Bloomberg Opinion) -- Federal Reserve Chairman Jerome Powell didn't give bond traders a lot to chew on during his testimony before the Senate Banking Committee on Tuesday.
He reaffirmed that gradual interest rate hikes are the best option "for now." He's pleased with the labor market and the pickup in the pace of inflation. He answered questions about the Fed's stress tests and even confirmed that he doesn't view the European Union as an enemy of the U.S.
But, as is seemingly always the case, the market waited to hear what Powell would say about the flattening Treasury yield curve. And he spelled out his thinking in characteristically plain terms:
If you raise short-term rates higher than long-term rates, then maybe your policy is tighter than you think. Or it's tight, anyway.
Soon after that remark, the yield spread between 2- and 10-year Treasuries reached a session low of 24 basis points. Further out the eurodollar futures curve, traders pared back bets on higher interest rates. In other words, the takeaway was that the Fed is going to keep gradually raising interest rates until something breaks. And that something could very well be the yield curve.
In answering a question from Senator Pat Toomey of Pennsylvania, Powell said that, in his view, "What really matters is what the neutral rate of interest is." And perhaps longer-term Treasury yields send a message about that rate. 
But Powell's comment from above suggests that while the central bank views a fed funds rate of 2.875 percent as more or less neutral in the long run, as suggested by its "dot plot," if the 10-year Treasury yield remains locked in a range around 2.85 percent, then perhaps policy makers will have to pause to rethink things.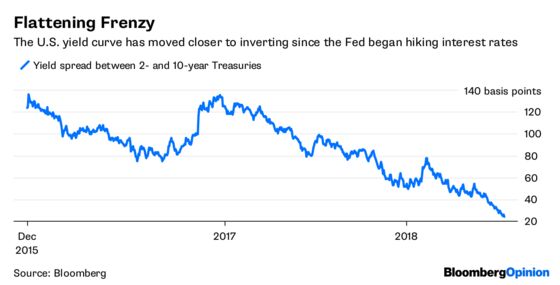 This is the big question facing central bankers and bond traders alike. No one knows exactly what tightening should look like after years of unprecedented monetary stimulus. It certainly doesn't help that the European Central Bank and the Bank of Japan are way behind in their efforts to normalize policy. Look no further than Bill Gross's decision to scale back his bet that U.S. and German 10-year yields would converge. Instead, that spread has widened as the Fed goes at it alone.
It seems as if Powell is content to keep raising the Fed's benchmark rate and hope that longer-term Treasury yields eventually rise in tandem. Toomey almost asked if the Fed would consider a reverse Operation Twist to lift long-end yields, something I contemplated last week, but he left the question open-ended enough for Powell to speak more broadly about his interpretation of the curve.
The overarching view seems to be that policy makers will deal with an inverted yield curve if and when it happens. "For now," though, the Fed will gradually hike rates until it can't. 
Brian Chappatta is a Bloomberg Opinion columnist covering debt markets. He previously covered bonds for Bloomberg News. He is also a CFA charterholder.