Jenni Kayne Weighs IPO of High-End Brand Within Next Three Years
(Bloomberg) -- Jenni Kayne, the high-end apparel and home-goods brand, is considering going public within the next one to three years, the company's chief executive officer and the founder said.
"We are discussing an IPO in the next couple of years," CEO Julia Hunter said in an interview alongside founder Jenni Kayne on Thursday. "We are really proud of the business that we've built -- the fundamentals of it work financially." She added the company is "not in a rush to do anything" and could ultimately decide against an IPO.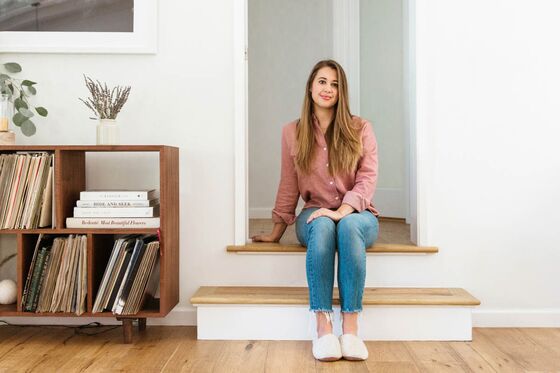 The company, which lists merchandise like $425 puffer jackets, $275 boucle throws and $3,445 side tables on its website, expects to report more than $100 million in revenue this year, Hunter said. That's more than quadruple what the business generated in 2019, before the pandemic upended consumer shopping patterns. Last year, Jenni Kayne's sales were around $50 million.
The brand's understated West Coast aesthetic is aligned with the post-lockdown zeitgeist, Hunter said. Women forced to stay at home indulged in the company's items like cashmere sweaters and shearling-lined mule shoes. They will continue to prioritize stylish comfort post-pandemic, Kayne said.  
"People feel like less is more and feel like getting grounded and slowing down and living seasonally and living naturally," said Kayne at her recently opened store in New York's SoHo neighborhood. Kayne, 39, founded the brand in 2002 and opened the first store in West Hollywood four years later.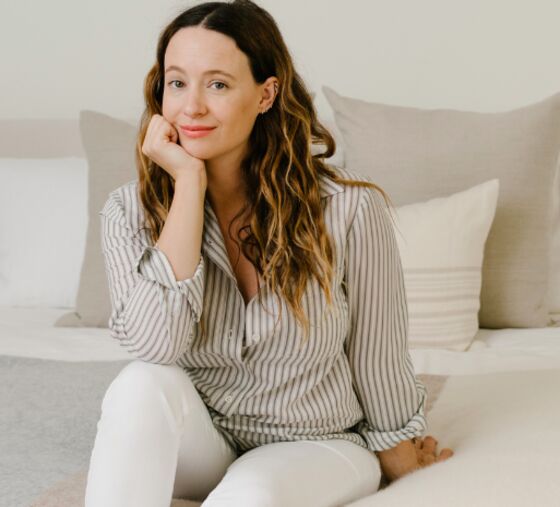 Kayne's father, Richard Kayne, is the sole investor in the company. He founded Kayne Anderson Capital Advisors in 1984 and remains a co-chair at the investment management firm, which has $30 billion in assets under management.
Direct-to-Consumer Success
Several brands that generate most of their revenue by selling their products directly to consumers have gone public in recent weeks, seizing on a broader surge in online sales that has maintained momentum even as pandemic restrictions ease. Shoemaker Allbirds Inc. raised $303 million earlier this month, while Warby Parker debuted at the end of September with a $6.1 billion valuation.
Jenni Kayne's online sales from the company's website represent around three-quarters of revenue. The remainder comes from the company's dozen stores, most of which are located in California and New York. Sales at Nordstrom Inc. and the department store's website generate approximately 2% of revenue.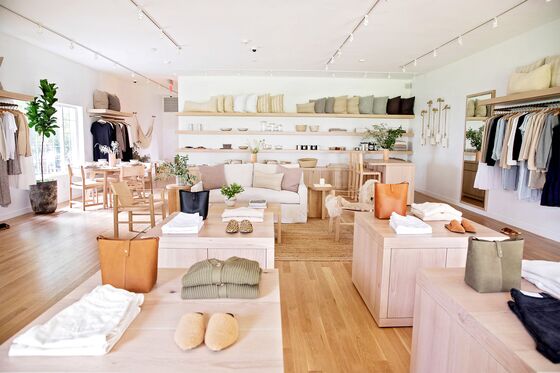 Hunter said that Jenni Kayne stores are "super productive" and have an average of $1,800 in sales per square foot and Ebitda margins, which exclude the impact of items like interest and taxes, of almost 40%. That's above the margin of many publicly traded U.S. luxury-goods companies. 
Apparel generates more than half of revenue, while 20% comes from home goods like $1,495 oak dining benches and alpaca pillows and blankets. Hunter and Kayne aim to boost the sale of furniture and other items in the coming year and open as many as ten home furnishing stores in 2022. Hunter said executives might cut the price on its furniture by 20% to 30% next year to make it accessible to more shoppers and boost sales volume.
"We think it could be a couple-hundred-million-dollar category in three years," said Hunter, 37, who joined the brand in 2014. She previously managed business and product strategy at companies including J. Crew and Elizabeth & James, the label founded by Mary-Kate and Ashley Olsen.   
Jenni Kayne recently launched a beauty line of five products under the brand Oak Essentials, which she says will target the company's main demographic of women in the 35-to-60 age range.
The company ultimately aims to sell the products via Goop Inc., Net-a-Porter and potentially Sephora. Kayne says she was inspired by women such as Lauren Hutton and Christy Turlington, who she said have aged beautifully.
"You can't stop the clock," Kayne said. "So how can we embrace the skin we're in?"