Jean Case on Swimming With Sharks, Investing and Impact-Washing
(Bloomberg) -- Jean Case has bungee-jumped, walked a plank set between poles 30 feet high and written a book called "Be Fearless."
So when asked about her scariest experience, you'd expect to hear something dramatic from the investor and chairman of the National Geographic Society.
"Diving in an area called the Gardens of the Queens, off the coast of Cuba, at one point I was probably surrounded by 25 big, healthy sharks," said Case, who is also chief executive officer of the Case Foundation. "I've been diving for a long time in a lot of places that have sharks, because healthy reefs have sharks, and I'd been never so surrounded by sharks before."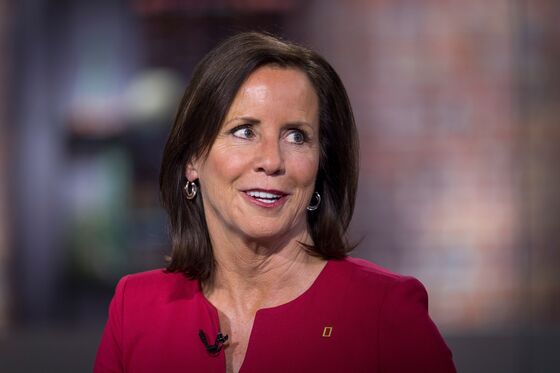 Bloomberg recently spoke with Case about impact investing, her personal investing and the work she and husband Steve, former CEO of America Online, have done to encourage a more inclusive startup culture. Comments have been edited and condensed.
What are investors missing by not looking beyond traditional venture capital hubs?
Capital today is flowing to too few people in too few places. Last year 75% of venture capital went to just three places: New York, Massachusetts, California. Less than 2% went to women and less than 1% to African Americans.
The startup ecosystem isn't thriving the way it once was. My husband has done a lot of work on this in his "Rise of the Rest" initiative. We talk about race, place and gender, how we need to invest in those ways to build a more robust startup culture. I also think the outsize nature of some tech companies chills competition.
Do you see more greenwashing today?
I'd go further and call it impact-washing. As big firms rush into impact funds, we're going to have to look carefully at how they're reporting and being transparent.
I've been taking a personal portfolio that dates back to my AOL days and making it 100% impact. One fund said it was an impact fund, but when questions came about what the fund was doing it became clear it was more rhetoric than true. Measurement and transparency will become critical if the movement is going to retain credibility.
What are the expectations for impact investment returns?
The data are clear that ESG outperforms when the ESG factors are high. We're seeing the same thing in impact. In my personal portfolio and in our National Geographic portfolio -- we have a $1.2 billion endowment -- our impact investments are outperforming non-impact in the same asset classes. Like all forms of investments, there will be winners and losers. We just have to be sure we course-correct early if things are going off the reservation and not holding to the ideals and standards.
How should impact be measured?
It's a big challenge. There have been a lot of different efforts to find adequate ways to measure impact. It's going to become even bigger with ESG exploding. We're encouraged by a number of business coalitions that have put some frameworks together.
What's your time frame on impact investments?
I don't have a different time frame for those investments. There are, however, investments I consider patient capital. Sometimes when I talk about impact investing, I remind people we've been too siloed. We have 100% capital loss, which is called philanthropy, or we have market-rate return or better. We really haven't explored the area in between.
I've written about the importance of busting the myth that impact investing has to be concessionary. It doesn't. Still, there might be room for investors willing to be more patient or willing to allow for some concessionary returns for a broader impact return.