Japanese Investors Pile Into Foreign Bonds
(Bloomberg) -- Japanese investors piled into foreign bonds last week, taking advantage of the yen's advance to a three-month high and a surge in debt issuance in the U.S. and Europe.
Investors from the Asian nation bought a net 2.32 trillion yen ($21 billion) of overseas bonds in the week ended Jan. 10, the most since September 2018, data from the finance ministry showed Friday. That halted a three-week selling spree.
"Japanese investors took their chances to buy foreign bonds as the yen appreciated when U.S.-Iran tensions heightened," said Tsuyoshi Ueno, a senior economist at NLI Research Institute in Tokyo. "They possibly also bought U.S. corporate bonds."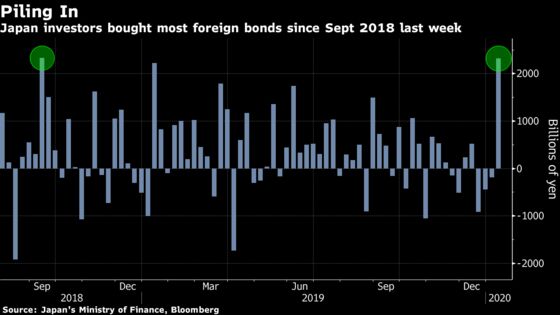 U.S. corporate investment-grade bond funds lured an unprecedented $8.2 billion during the week ended Jan. 8, according to data compiled by Refinitiv Lipper.
Investment grade issuance in the nation hit $61.9 billion last week, the fourth-largest supply total on record. The period also saw the biggest supply on record for European primary bond markets, with 92.5 billion euros in sales.
The yen climbed to a three-month high of 107.65 against the dollar on Jan. 8 after Iran fired missiles at U.S.-Iraqi airbases. However, a de-escalation of tensions since has damped the haven currency's appeal, dragging it to an eight-month low of 110.29 on Friday.
"Japanese investors may want to take every opportunity to buy overseas when the yen rises in order to meet their fiscal year-end investment targets," Ueno said. That's because "the dollar has been climbing quite steadily," he added.