Japan Household Spending Falls for a Third Month
Japanese households cut spending for a third month in July as a renewed state of emergency over the virus kept consumers cautious and likely pushed back the timetable for a more robust economic recovery.
Spending fell 0.9% from the prior month on a seasonally adjusted basis, the internal affairs ministry reported Tuesday. Compared with the depressed level a year earlier, outlays increased just 0.7%, missing the median estimate from economists, as falls in spending on medical care and home goods countered increases on transportation and food.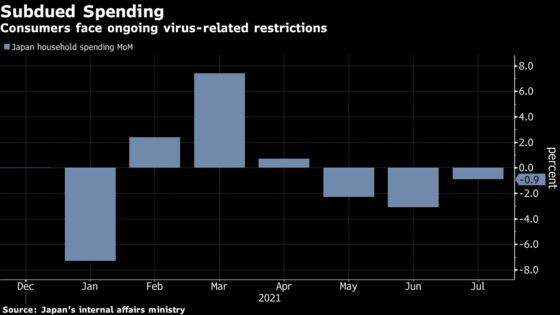 A separate report showed wages rose for a fifth month in July compared with last year, pushed up by a double-digit increase in overtime pay.
July's drop in household spending, though, suggests that the spread of the highly contagious delta variant is having a chilling effect on consumers as the government keeps up its calls for restaurants and bars to close early and for people to exercise caution. Last quarter, shoppers shrugging off virus warnings helped Japan avoid a recession but also spread the disease. 
"Consumption is still better than last spring, but it's weakening somewhat because government restrictions are keeping people from spending as much as they'd like," said economist Hiroaki Muto at Sumitomo Life Insurance Co. The picture should improve as "vaccination is working and will help consumption down the road."
The government expects to get about 60% of the country fully inoculated by the end of this month, up from about 48% now. Policy makers are planning to ease Covid-19 restrictions as early as October, according to a Yomiuri report.
Still, the failure to quell the virus faster forced Prime Minister Yoshihide Suga to announce his resignation last week amid criticism of his handling of the pandemic. Calls are growing in the ruling party for more economic stimulus with national elections due this fall.
A record wave of the virus that hit during summer is subsiding somewhat, but the government is reportedly considering extending the current state of emergency, Japan's fourth, for a few weeks beyond the current end-date of Sept. 12.
What Bloomberg Economics Says...

"We see spending extending declines in year-on-year terms in August, weighed down by lower bonuses and expanded virus-containment measures."

--Yuki Masujima, economist

To read the full report, click here.
Compared with last year, spending on transportation and communications rose 14%. That for food gained 1.9%.
Those increases were partly offset by an 8.4% drop in spending on household goods and a 7% fall in outlays on medical care.
Cash earnings gained 1% from a year ago, better than the 0.4% forecast by economists. Adjusted for inflation, wages increased 0.7%.