Slip in Japan Manufacturing Outlook Underplays Omicron Concern
(Bloomberg) -- Japan's biggest manufacturers are less optimistic about the coming months as uncertainty over the omicron variant tempers bullishness, according to a Bank of Japan survey that likely underplays the full degree of concern.
Current sentiment among big Japanese makers of products stayed at 18 this month, holding at the highest since 2018, while an index of the outlook slipped to a softer-than-expected 13, the Tankan showed Monday.  
Positive figures mean optimists still outnumbered pessimists, but the survey likely under-represents concerns over the omicron variant as close to 80% of companies had responded by Nov. 29, only days after omicron was flagged as a variant of concern.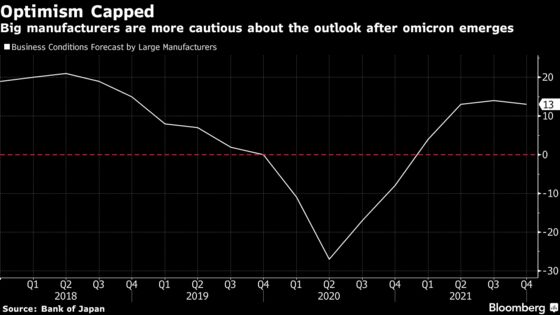 While sentiment at large service companies improved more than analysts had expected amid easing restrictions on activity at home, the survey showed an unexpected deterioration in confidence among big manufacturers, most of which are likely to have responded before omicron took off.
Makers of lumber, petroleum and processed metal products were among sectors showing the biggest slumps in optimism looking ahead. Among non-manufacturers, real estate firms and business service and communications providers also showed drops in confidence going forward.
Hotels and eateries still saw an improvement in their circumstances in the coming months, though their forecast remained deeply pessimistic at -28.
What Bloomberg Economics Says...

"The Bank of Japan's latest Tankan survey pointed to an uneven recovery... With growing concerns over the risks from the omicron variant, we expect the central bank to extend its Covid-19 fund support program beyond its March expiry."

--Yuki Masujima, economist

To read the full report, click here.
Still, analysts said the Tankan showed the economy continuing to heal after shrinking last quarter for a fifth time in eight quarters. The survey showed capital spending plans at large companies of all stripes holding up, with firms expecting to boost investment by 9.3%, only slightly lower than reported plans three months ago.
"Overall the data does show that companies are confident about the recovery," said economist Atsushi Takeda at Itochu Research Institute. "Large manufacturers have managed to maintain a high level of activity, and particularly with capex, we're seeing an improvement in general machinery reflecting confidence."
A separate report Monday from the Cabinet Office showed orders for Japanese machinery rose for the first time in three months. Bookings are a signal of planned capital spending. 
Read More: BOJ Is Said to See Lowering of Corporate Debt Buying as Likely
The BOJ will look closely at the Tankan to get a read on credit conditions for businesses as they decide the fate of a special Covid funding program as early as this week's meeting ending on Friday. 
The survey showed the financial position of large enterprises holding at 16, with a small improvement for medium-sized enterprises and a slight worsening for small enterprises. 
"It will probably be hard for the BOJ to completely finish the whole Covid funding program, but it's possible that they start lowering the purchase of corporate bonds and commercial paper as today's Tankan continues to show funding conditions remain favorable," said economist Kazuma Maeda at Barclays Plc. 
Until the emergence of omicron, Japanese businesses had seen reasons for more optimism compared with the summer. Infection cases at home and a continued economic recovery in their main export destinations from U.S. to China had given cause for guarded bullishness. 
Prime Minister Fumio Kishida also likely helped buoy corporate sentiment by unveiling a larger-than-expected economic package last month offering record fiscal support for the economy.