Japan's Labor Unions Get Smallest Pay Raise in Seven Years
(Bloomberg) -- Workers in Japan's biggest labor union are getting the smallest pay raise in seven years, another blow for households facing a higher sales tax and the likelihood of a deep recession triggered by the coronavirus.
Average monthly pay for members will rise by 1.91%, according to initial results from this year's wage negotiations released Friday by the Japanese Trade Union Confederation, known as Rengo. That follows a bump of around 2.2% in 2019.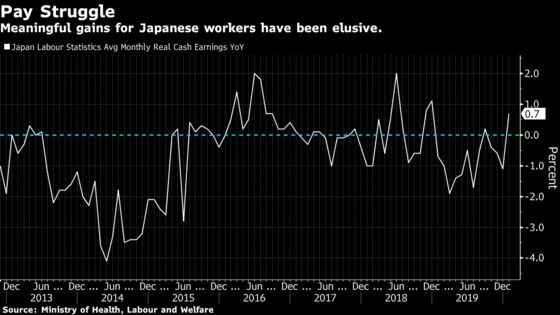 With corporate profits likely to be hard hit by the virus, Japan's unions had less bargaining power than might have been expected given the country's labor shortages. This year's results present a further challenge for households whose budgets have been squeezed by the second sales tax hike in the span of about five years.
They're also troublesome for policy makers who are counting on consumers to help power an economic recovery and help Japan shake off the lingering effects of deflation. For the Bank of Japan, pay raises are key to jump starting a virtuous cycle in which more consumer demand fuels stronger growth in prices and the economy.
Still, despite consistent public urging from Prime Minister Shinzo Abe and BOJ Governor Haruhiko Kuroda, businesses have failed year after year to deliver the 3% raises that many economists say are needed to drive more sustained inflation.
Toyota Forgoes Base Pay Raises as Car Industry Battles Slowdown
One reason Japan's ultra-low unemployment rate hasn't translated into faster wage gains is the fact that unions are often willing to sacrifice bigger raises in return for greater job security. Rengo went into this year's negotiations demanding only about a 3% pay increase. And that was after the sales tax went up by 2 percentage points in October.
As small as this year's average overall pay increases were, gains in base wages were even smaller. Stripping out things like seniority-based raises, the average increase will amount to 0.44%, Rengo said. The figures could fall once more of the confederation's members report results.
At Toyota Motor Corp., where the union didn't stick to its usual focus on base pay raises, workers didn't get one at all. The automaker froze them for the first time in seven years, although workers will still be eligible for special bonuses and seniority-based raises, the company said this week.