Japan's New Leader Pledges to Boost Wages Without Raising Sales Tax
(Bloomberg) -- Japan's new prime minister, Fumio Kishida, wants to succeed where Abenomics fell short, by boosting worker wages and creating a new type of capitalism that distributes wealth more widely. 
Speaking on TV Tokyo late Monday, Kishida said he'll raise pay for public workers and strengthen an income tax break for companies that boost wages, although he put off an idea floated earlier to raise capital gains taxes. 
"We should prioritize policy measures that raise people's incomes," Kishida said.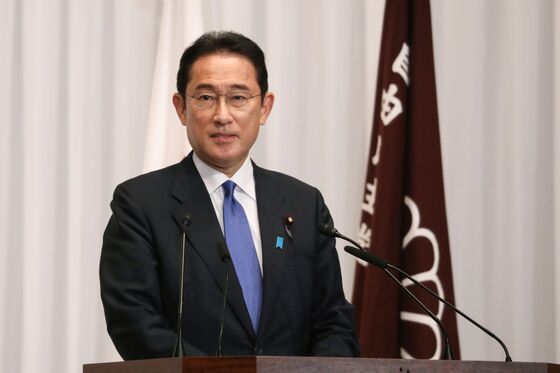 Kishida faces a national election later this month. Whether or not his plans qualify as strong economic medicine, he may have a good diagnosis of what ails Japan, where the middle class has foundered while stocks soared under the policies of former Prime Minister Shinzo Abe. 
Better corporate profits were supposed to trigger a virtuous cycle that fed into higher wages, inflation and faster growth. But the benefits of higher company incomes accrued mostly to shareholders without filtering down to workers.
Weak wages have been a multi-decade issue in Japan. In recent years, companies have been hoarding cash because they've been so shell-shocked by crisis after crisis. To unlock that cash, Kishida says he wants to strengthen tax incentives for firms that raise wages, a policy introduced by Abe, although there are no new numbers on Kishida's plan.
Kishida has also pledged to raise pay for nurses, caregivers and other public workers, an area where the government can show leadership and also push change in the labor market. 
Asked how he'd pay for the wage boost, Kishida said better economic growth would provide the funds, not an increase in the sales tax.
   What Bloomberg Economics Says...
"Japan's pre-tax income inequality has been increasing for more than three decades, catching up with the U.S. and major European economies, but income inequality after tax has been fairly steady. That reflects an increase in tax transfers."

--Yuki Masujima, economist

To read the full report, click here. 
Although Japan's wealth inequality is still not as extreme as in the U.S. or Europe, Kishida is responding to a widespread feeling in the country that living standards for the middle class have eroded. 
Japan has a ballooning underclass of part-time, contract and temporary workers that now make up about 40% of the workforce and are paid about one-third less than permanent employees. 
That's another area that Kishida wants to address, with cash handouts to non-regular workers as a part of an economic stimulus package he says he'll unveil after the Oct. 31 election.
Still, poor poll numbers show voters have yet to be convinced and economists have also been lukewarm on the policies so far. 
"He is calling for a new type of capitalism, but I don't see a concrete picture for it," said Masaaki Kanno, chief economist at Sony Financial Holdings Inc."Kishida is saying no distribution without growth, but he's focusing more on distribution and I don't see him taking new measures and policies in terms of growth."