Government's New Math Shows Japan Inflation Back Below Zero
(Bloomberg) -- Japan's inflation dropped sharply below zero as a re-shuffling of items in the consumer-price basket highlights Prime Minister Yoshihide Suga's focus on votes rather than price growth.
Sharply reduced cellphone charges pushed by Suga got a larger weighting in the inflation calculations after a twice-a-decade revision. The update aimed to ensure the figures more accurately match the buying patterns of contemporary consumers.
The new weightings, reflecting the transformation of the smartphone from premium product to must-have gadget, showed core prices have yet to break into positive territory. The revision showed consumer prices, excluding those for fresh food, fell 0.5% in June, compared with a 0.2% increase before the revision.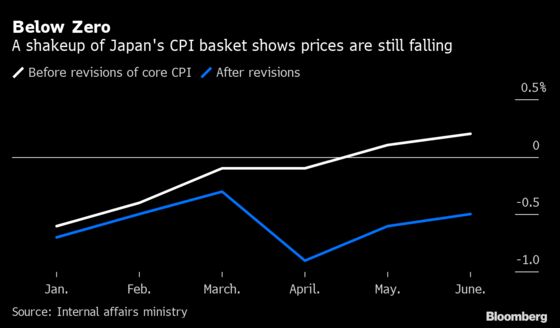 Stripping out both energy and fresh food, the new numbers showed prices fell 0.9% in June, the most since the tsunami and earthquake disaster in March 2011.
The showing was much weaker than economists had expected and further demonstrates how Suga's policies have pushed prices down, instead of up. Softer prices also likely add to the view that the Bank of Japan has no choice but to keep pumping stimulus for years to come despite inflation fears elsewhere in the world.
After the re-weighting, June's 39% drop in cellphone charges sliced a full percentage point off inflation, almost doubling the drag before the revision, as Suga looked to cut household costs. The prime minister faces national elections in coming months.
"Suga's priority is to put money into consumers' pockets to boost his popularity," said Nobuyasu Atago a former head of price statistics at the BOJ and chief economist at Ichiyoshi Securities. "The 2% target has become symbolic for the government to show its determination to avoid deflation, but it's no longer actively trying to push up prices."