Japan Household Spending Jumps by Double Digits in April
Japanese household spending jumped by double-digits in April as consumers got a temporary reprieve from virus restrictions and the data got boosted by comparison with 2020's pandemic-hit figures.
Spending surged 13% from a year earlier, the ministry of internal affairs reported Friday in figures that beat the median estimate from economists by a wide margin.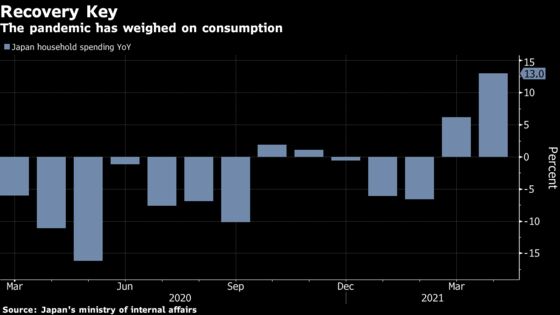 On a seasonally adjusted basis, outlays rose 0.1% from a month earlier, a third month of improvement that indicates a bedrock of consumer demand despite on-again-off-again restrictions to try to control the coronavirus.
Spending could start to soften again in May and June amid a renewed state of emergency that's been extended through the middle of this month. An earlier declaration of emergency during winter was a big factor behind last quarter's economic contraction.
"I see a good chance that the economy will contract again in the second quarter," said economist Yuichi Kodama at Meiji Yasuda Research Institute. "It's also true that pent-up demand has risen. Consumption can recover strongly once the emergency ends and the vaccination drive advances."
There are signs in recent days that the pace of vaccination is picking up after a slow and much-criticized start. As of June 2, Japan was administering close to 500,000 doses a day, a similar pace to the EU earlier this year.
A ministry official said that, although household outlays in April had basically returned to 2019 levels, it was too simplistic to say consumption was back to pre-Covid levels because spending patterns have changed. Spending on durable goods is up, while that for entertainment and other services is down -- a predictable result given restrictions calling on bars and restaurants to close early.
What Bloomberg Economics Says...

" The surprisingly big jump in Japan's household spending in April probably won't last -- disposable incomes aren't rising fast enough to sustain it. Much of the year-on-year rise reflected last year's low base. "

--Yuki Masujima, economist

To read the full report, click here.