Japan's FY2019 Budget to Top 100 Trillion Yen for First Time
(Bloomberg) -- Japan's budget for the fiscal year starting in April 2019 will top 100 trillion yen ($890 billion) for the first time, highlighting the government's struggle to curb spending in the developed world's most indebted nation.
The budget will increase 3.8 percent to about 101.5 trillion yen, according to a draft budget document obtained by Bloomberg News. Almost a third of that spending will be paid for with debt issuance, although the amount of bonds issued will decline for a seventh straight year.
A raft of measures to offset the economic impact on domestic demand of a sales tax hike next year also form a large part of the extra spending.
Japan hopes the tax hike will help it shrink its massive public debt over the longer term, but the nation's rapidly aging population makes reining in social security spending increasingly difficult.
The details of the budget are as follows:
General spending of 62 trillion yen.
Debt servicing costs of 23.5 trillion yen.
Forecast tax revenue of 62.5 trillion yen.
Targeted revenue from bond issuance at 32.7 trillion yen.
Payments to regional and local governments will be 16 trillion yen.
The bond dependency ratio, which shows how much of total income is from selling bonds, will drop to 32.2 percent from 34.5 percent last year.
Other revenue of 6.3 trillion yen.
The government regularly crafts extra budgets later in the fiscal year that can push up spending further, so the initial budget numbers don't give a full picture of all the spending that will happen next year.
Still, even the initial spending increase of about 3.1 trillion yen this year vastly exceeds a 530 billion yen limit on rises recommended by government advisers.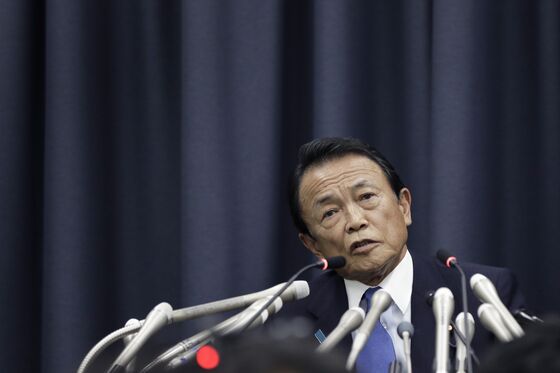 Earlier in the day, Finance Minister Taro Aso defended the sales-tax measures, worth around 2 trillion yen, saying they were to help reduce sharp swings in demand stemming from the sales tax.
"Next year the amount of revenue from bond issuance is going to fall by 1 trillion yen, so I don't think you can say we're spraying money around," Aso said.
What Our Economist Says...
"The record-sized plan is larger than we had expected just a few months ago, and suggests Prime Minister Shinzo Abe is keen to put a sturdy prop under an economy that faces another sales-tax hike in October," said Bloomberg Economics' Yuki Masujima. "Keeping the economy humming would help the ruling Liberal Democratic Party in an Upper House election next summer."

For more, see our Japan React