Japan's Exports Extend Growth Streak to 19 Months in June
(Bloomberg) -- Japanese exports increased for a 19th straight month in June despite rising tensions in international trade.
Highlights
The value of exports rose 6.7 percent in June from a year earlier (forecast 7 percent), according to data from the finance ministry.
Imports increased 2.5 percent (forecast 5.3 percent).
The trade balance was a 721.4 billion yen surplus ($6.4 billion) (forecast 531.2 billion yen).
Japanese exports have been key to the country's economic recovery in recent years, although the size of gains has come down from the double-digit figures seen through much of 2017. While there's a threat of tariffs on car and auto-part shipments to the U.S., the nation is forging ahead with trade deals in other important markets and this week signed a pact that will eliminate EU tariffs on vehicles from Japan.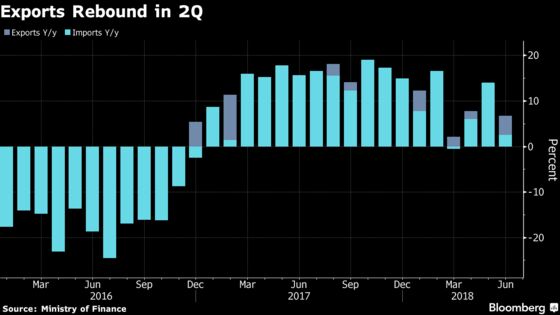 Imports were likely to drop off a bit in June after a large amount of inbound shipments of aircraft in May, SMBC Nikko's Koya Miyamae, Rina Adachi and Yoshimasa Maruyama wrote in a note before the release.
There's a high chance that real exports grew in the second quarter, and external demand will help lift economic growth over that period, they wrote.
Japan's adjusted trade balance showed a surplus of 66.2 billion yen (forecast 155 billion yen).
Exports to China, Japan's largest trading partner, rose 11.1 percent in June from a year earlier.
Those to the U.S. slipped 0.9 percent.
Shipments to the EU increased 9.3 percent.