Japan's Economy Shrinks for Second Time in 2018 After Disasters
(Bloomberg) -- Japan's economy shrank for a second time this year after an earthquake, typhoons and torrential rain battered production at home and exports declined amid softer demand overseas.
Gross domestic product is forecast to recover from its annualized 1.2 percent drop in the third quarter, and to continue growing until a sales-tax hike in October 2019, but the impact of a slowdown in China and trade tensions are likely to keep the expansion modest.
Reports that President Donald Trump will hold off for now on imposing tariffs on imported Japanese cars and auto parts keeps one of the largest threats to Japan's economy at bay for the time being.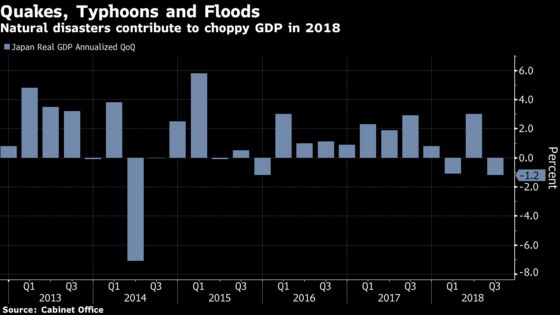 The wild weather that passed through regions including Osaka and Tokyo, and an earthquake on the northern island of Hokkaido, knocked out power supplies, halted factories and disrupted supply chains. Exports suffered the biggest decline in more than three years.
Yet the falloff across a range of economic activities can't only be explained by natural disasters, said Kyohei Morita, chief Japan economist at Credit Agricole Securities Asia. "The trade war and China's slowdown are already starting to take a toll on Japan's economic growth," he said.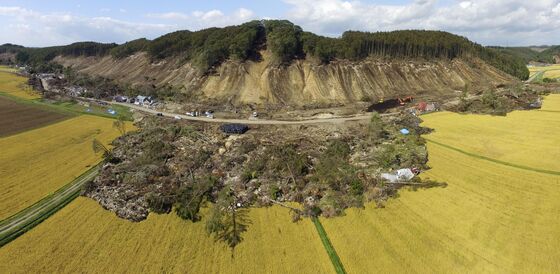 Masaki Kuwahara, senior economist at Nomura Securities Co., said about 1 percentage point of the 1.8 percent decline in exports was due to the disasters, with the rest the slowdown in China.
The patchier growth is unwelcome news for Prime Minister Shinzo Abe, who last month confirmed that the sales tax hike would go ahead next year given the strength of the economy. The third-quarter figures don't warrant any change of course for Abe and the Bank of Japan, according to economists.
The BOJ is in a tight spot with some people thinking it should raise rates to help alleviate pressure on the profits of regional banks and limit risks to the financial system, said Takeshi Minami, chief economist at Norinchukin Research Institute. "The problem is can it really raise rates when the economy is losing momentum?" he said.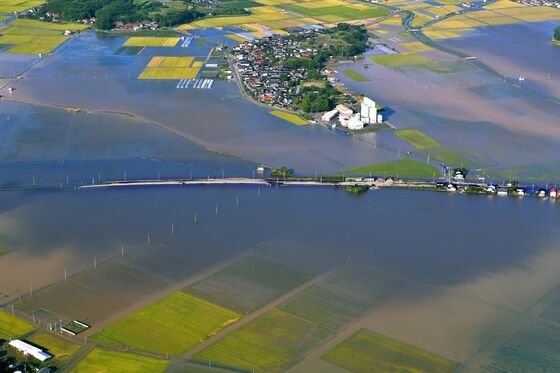 What Our Economist Says ...
"Japan's economy was bound to take a hit from a string of natural disasters that disrupted production in 3Q, as the GDP data bore out. The good news is that the effects will pass, and a rebound in 4Q is likely. The negatives in the data were discouraging, but not alarming." 

--Yuki Masujima, Bloomberg Economics
For more, see our Japan React
Business spending, which had been expected to slow after its 3.1 percent surge in the second quarter, edged down 0.2 percent for the first drop in eight quarters.
Private consumption, another driver of the rebound in the second quarter, slipped 0.1 percent.
On a non-annualized basis, the quarter-on-quarter drop in GDP was 0.3 percent.