Japan's Economy Now Seen Contracting as Election Looms
(Bloomberg) -- Japan's economy likely shrank over the summer as a Covid surge and supply bottlenecks slammed an already feeble recovery, according to estimates by several economists just two days before the nation goes to the polls.
Analysts at Dai-Ichi Life Research Institute, BNP Paribas Securities and NLI Research Institute are among those who now estimate gross domestic product shrank for a second time this year adding to signs of a delayed recovery compared with other major economies. 
Another setback for the economy could put pressure on the winner of Sunday's election to compile a bigger stimulus package to support growth. The ruling coalition of recently installed Prime Minister Fumio Kishida is expected to hold on to its majority. Kishida has pledged to draw up measures worth tens of trillions of yen.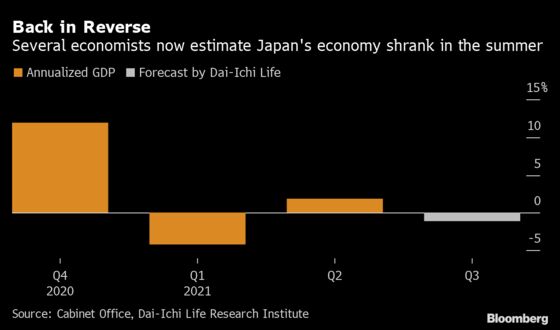 The economy likely contracted by 1.1% on an annualized basis in the three months to September, Yoshiki Shinke, chief economist at Dai-ichi Life wrote in a report Friday. Ryutaro Kono at BNP Paribas sees a fall of 1.5%. Taro Saito at NLI Research estimates the economy shrank 0.9%. 
The revised estimates follow dismal quarterly production data released earlier Friday showing the biggest drop in output outside of the pandemic since the aftermath of the 2011 tsunami, as global supply chain snags forced major automakers such as Toyota to pare back production.
The output data came just a day after the Bank of Japan lowered its growth forecast for the year ending March, citing supply constraints.