Japan Off to the Races as Pandemic Stokes Online Betting
(Bloomberg) -- Japanese gamblers, wary of the coronavirus pandemic, are fueling a boom in online betting for horse races.
The surge in such wagers prompted Shinnosuke Takeuchi, an analyst at Jefferies Japan Ltd., to identify race-track operator Tokyotokeiba Co. as the only company covered in the consumer services sector with "strong near-term earnings."
The stock rose as much as 4.8% to 3,705 yen in early trading in Tokyo on Thursday, the biggest gain in almost two months.
While online betting has accelerated, Japanese consumers have reined in spending amid the pandemic, causing retail sales to drop more than 12% in May from a year earlier. Electronic wagering on local horse races jumped 67% in the April to May period as punters stayed away from the racetrack and shifted away from pachinko, the vertical pinball-style game typically played in packed halls, Takeuchi said in a July 1 note, citing Japan's National Association of Racing.
Government cash handouts of 100,000 yen ($930) per person, intended to spur growth, may buoy spending over the next few months. Coronavirus infections in Tokyo have climbed in recent days, with 67 new cases reported in Tokyo on Wednesday, the most since early May.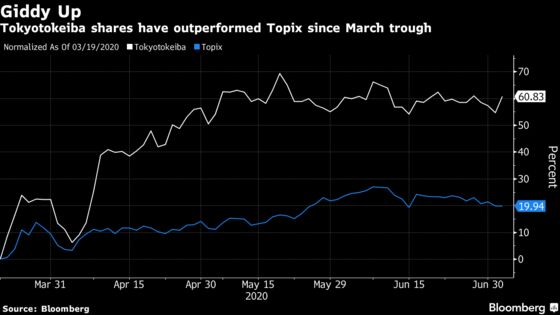 Tokyotokeiba shares touched a 19-month high in late May, the month when data shows telephone betting peaked. The stock is still up 60% from a trough in March, surpassing the about 20% rebound in the benchmark Topix.
Takeuchi raised his price target for Tokyotokeiba shares to 6,200 yen. All three analysts that cover the company rate it a buy, according to data compiled by Bloomberg.