Japan Nears End to Its Loose Lockdown With Drop in Virus Cases
Japan's approach to the coronavirus, which called on citizens to voluntarily stay at home and for business to enact their own shut down measures, led to predictions of disaster when Prime Minister Shinzo Abe declared a state of emergency last month.
But with daily cases of infections dropping to zero in many regions of the country, some parts of Japan are getting ready to lift the already light measures adopted under the declaration. Economy Minister Yasutoshi Nishimura said he is considering lifting the state of emergency for most of the prefectures in the country before May 31, when the current declaration is set to expire.
The move represents a rare piece of good news in Abe's stop-start battle with the virus. When he first declared an emergency on April 7, the prime minister was at pains to make clear that the country would not seal off roads or shut down public transport, steps that were taken in many western capitals. Instead, he called on citizens to voluntarily reduce their interactions by 70% to 80% to bring a halt to the spread of the virus.
Although Abe initially declared an emergency only for the most heavily hit areas, the measure was expanded to the whole country, then extended until the end of May. Now, the measure may be lifted in 34 of the country's 47 prefectures, the Yomiuri newspaper reported Monday, citing multiple unidentified officials.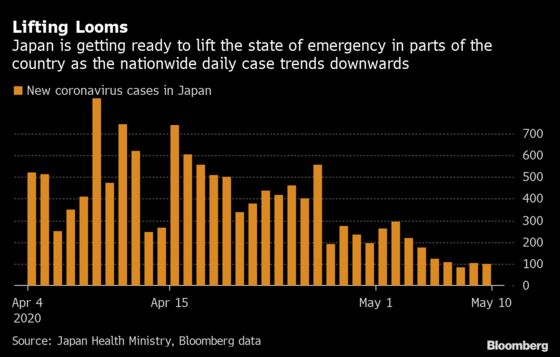 Compared with what was going on in many developed nations, Japan's steps elicited confusion, with bars and hairdressers among the businesses deemed essential enough to be exempted from being asked to close. There were no restrictions on people's movement or interactions.
However, the results have been surprising, with cases nationwide dropping to less than one-seventh of the peak in mid April. Many prefectures haven't reported a case in days, with the southern island of Okinawa not recording a new case in 11 days. The northern prefecture of Iwate has yet to see a single case.
And on Monday in Tokyo, a city of 14 million people, just 15 new cases were reported, the sixth day in a row the capital recorded less than 40.
The government will hear opinions from a panel of experts set to meet on May 14, according to the Yomiuri. The state of emergency is set to remain until the end of the month in Tokyo, Osaka, Hokkaido and other areas that are still seeing multiple cases every day. Speaking on public broadcaster NHK on Sunday, Nishimura said a gradual recovery of economic activity can take place in the remaining 13 prefectures, including Tokyo and Osaka, if the virus can be contained by the end of this month.
The potential lifting of the emergency was warmly greeted by Japanese financial markets. Stocks that have taken a beating while the state of emergency was in effect, including restaurant chains, ticket agencies and travel companies, surged. Japan's main airlines ANA Holdings Inc. and Japan Airlines Co. both surged about 10%, West Japan Railway Co. jumped 7.2%, travel agency HIS Co. Ltd added 17% while gym operator Rizap Group jumped 27%.
Japan's testing capacity remains limited compared with other nations, although the country has now conducted more than 214,000 tests. That's still less than half of neighboring South Korea, though the number of positive cases has trended down even as the capacity has expanded.
South Korea also offers a lesson in the dangers Japan will face in the weeks ahead, after a spike in cases tied to nightclubs in Seoul. Speaking in parliament Monday, Nishimura warned of the dangers of such an event.
"If we see the signs of cases beginning to 'overshoot,' we will need to re-consider re-imposing the state of emergency," he said.