Japan Households Cut Spending in December Before Emergency
(Bloomberg) -- Japan's household spending edged down in December, falling for the first time in three months, before the spread of coronavirus forced the government to call another state of emergency early this year.
Less spending on transportation and eating out were big factors pushing the overall figure down 0.6% compared with the prior year, with increasing outlays on furniture and education keeping the number from being worse, the ministry of internal affairs reported Friday. Economists had forecast a steeper overall fall of 1.8%.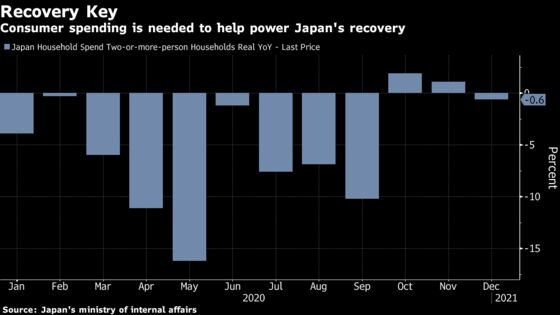 The virus's spread in Japan has worsened considerably since the end of last year, so the slump in consumer outlays is likely to deepen, with analysts forecasting the economy falling back into contraction this quarter.
A state of emergency called in early January was extended this week until March 7, prolonging the pain for restaurants, bars and other businesses in Tokyo and the country's other big cities. Finance Minister Taro Aso, speaking Friday, said shorter operating hours for companies will impact the economy.
"Consumption is certainly on a downward trend," said economist Hiroaki Muto at Sumitomo Life Insurance Co., noting that purchases of goods continue to hold up better than spending on services. He sees consumer spending remaining weak and the economy shrinking this quarter, but said "the damage won't be as bad as the previous state of emergency" in late spring.
Still, slipping household outlays are likely to confirm a cautious view at the Bank of Japan, which last month downgraded its assessment of consumer spending. Deputy Governor Masazumi Wakatabe this week said any improvement in the labor market or wages are likely to be hampered by the virus for the time being.
Analysts see the economy shrinking 2.5% in annualized terms this quarter, but returning to growth after that as the virus gets better contained and vaccine drives widen globally. Japan's vaccinations are set to start later this month.
For now, government and central bank stimulus has helped hold Japan's unemployment rate at a remarkably low level of 2.9%, but economic anxiety and the biggest cuts to winter bonuses since the financial crisis could restrain spending in coming months.
What Bloomberg Economics Says...

"The underlying trend for spending looks weak, probably weaker than the headline data let on. The support from inclement weather will fade. We expect a sharp drop in spending in 1Q, driven by the state of emergency to counter the spread of Covid-19 infections."

--Yuki Masujima, economist

For the full report, click here.
Spending on transportation and communications fell 9% versus the same month in 2019. People spent 31% less at restaurants and bars during what is normally Japan's busiest season for parties and group outings.
Spending on furniture and household sundries increased about 14%, as people hunkered down at home.
Compared with November, household spending increased 0.9%, suggesting that consumers were showing some resilience amid the gloom at the end of 2020.