Japan Finally Hits the Panic Button Despite Its Early Front-Row View to Outbreak
(Bloomberg) -- On an average day, Tokyo's two Disney locations get almost 90,000 visitors, who queue for hours to meet Mickey, take selfies and buy souvenirs.
This weekend they'll be deserted.
The theme parks join a dizzying array of sudden closures across Japan due to the spread of the coronavirus, which has shut sumo tournaments, called off cherry blossom viewing events and could keep more than 13 million schoolchildren at home for at least a month. Japan's northern island of Hokkaido declared a state of emergency, with residents urged to stay in their homes over the weekend.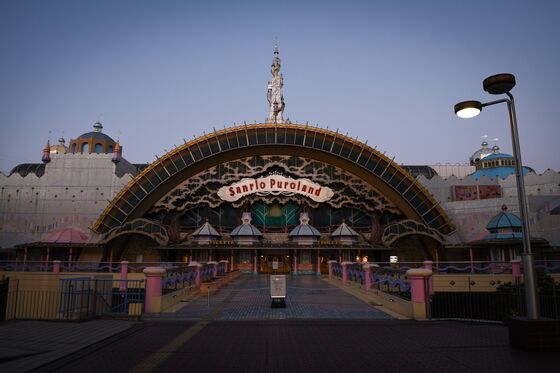 Although Japan has had a front-row seat to the outbreak in China and even on the Diamond Princess cruise ship docked in its own port of Yokohama, the nation has at times appeared relaxed as the illness spread, infecting more than 83,000 worldwide and killing almost 3,000. But now, after weeks of halting preparations, the mood has changed: infections are starting to climb, and doubts are surfacing over whether Japan is testing enough people. As a result, more people are working from home and shunning crowds, while emptying store shelves by hoarding toilet paper and other essential items.
"The next one to two weeks are extremely important to prevent the spread of infection," Abe said at a government taskforce meeting earlier this week. "We will take every precaution going forward while monitoring any spread of the disease."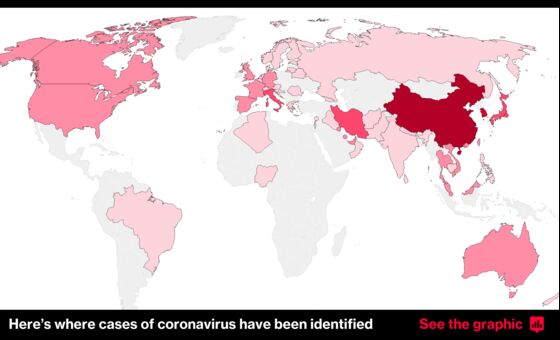 For a time, the vast majority of infections in Japan were from the once-quarantined Diamond Princess, and the numbers paled in comparison to China or South Korea. As of Friday, there were 210 infections, excluding the more than 700 from the ship.
Japan hasn't seen anything like this since the March 2011 earthquake and tsunami that killed close to 20,000 people. Leisure activity in the country is set to grind to a halt for the next several weeks as the country enters a period that Prime Minister Shinzo Abe has cast as critical for controlling the virus. And at stake might be the success of the country's most-high profile event in decades: the 2020 Tokyo Olympics.
The country was caught off-guard by Abe's call Thursday evening for schools to close for at least a month, keeping students at home.
While the ultimate decision is made by local governments, not all of whom are willing to go along with the prime minister's directive, the closings are set to last through the rest of Japan's school year, which ends in March. Graduation ceremonies probably may not be possible, unless there's a sharp deceleration in infections. In the meantime, students will have few places to go, after Abe also called for a halt to sports and cultural events.
Universal Studios Japan in Osaka, where a $500 million area themed around Nintendo Co.'s characters is set to open only three months from now, followed Oriental Land Co. in closing its gates. The operator of the Tokyo Disney Resort won't be open for two weeks. The J-League, the country's premier soccer competition, has called off games until mid-March. The Osaka Grand Sumo Tournament, one of only six two-week bouts held annually in Japan's national sport, is unlikely to go ahead as normal.
Toho Co. delayed the opening of the latest movie starring its perennial kids favorite Doraemon, a long-standing series about a time-traveling robot cat. On Wednesday, just hours before taking the stage, top-selling pop group Perfume canceled a gig at Tokyo Dome, the most-high profile venue in the country. And an annual cherry blossom viewing event at the Osaka Mint, which typically attracts 600,000 visitors, has been called off.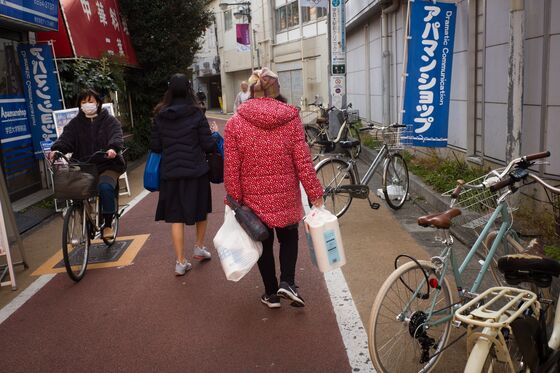 Consumers have also been caught off-guard. Just weeks ago, Japan's media were showing shelves swept clean of toilet paper in Singapore and Hong Kong — but now the same thing is happening in Japan.
After a false rumor spread on social media that Japan imports pulp from China, the shelves of the Seiyu supermarket in the Tokyo district of Nishiogikubo were empty of toilet paper on Friday morning, with even paper towels gone. Page after page of toilet paper brands on Amazon Japan were listed as being unavailable, with the product instead appearing with huge mark-ups on flea market websites. At a Life supermarket near Tokyo's Sumiyoshi, instant noodles joined the sold-out list.
Hiroyasu Osato, who works in architecture, was trying to buy boxes of tissues at the Don Quijote store in Tokyo's Kameido, after earlier failing to find anything at stores in his neighborhood.
"What happened?" he said, after finding the shelves empty. "I asked the staff, how could toilet paper be sold out?! I wasn't expecting this."
Authorities appealed for calm, with Deputy Chief Cabinet Secretary Naoki Okada saying toilet paper was in plentiful supply and urged consumers to avoid hoarding.
"Domestic paper companies have ample stock," Kazuhiro Goda, head of the association of 39 paper manufacturers, said in an interview. "If consumers who usually buy just one roll purchase three, there there will momentarily be a shortage."