January 2020 Was Europe's Hottest on Record
(Bloomberg) -- Scientists confirmed Wednesday what struggling European reindeer herders and disappointed skiers already suspected: unusual winter heat just broke another temperature record. 
Last month was the hottest January ever in Europe, the Copernicus Climate Change Service reported. Surface temperatures were 3.1 degrees Celsius (5.6 degrees Fahrenheit) warmer than average and were 0.2 degrees Celsius hotter than the previous record in 2007. 
Global temperatures were similarly "substantially above average," accord Copernicus, which uses billions of measurements from satellites, ships, aircraft and weather stations around the world to publish monthly climate updates.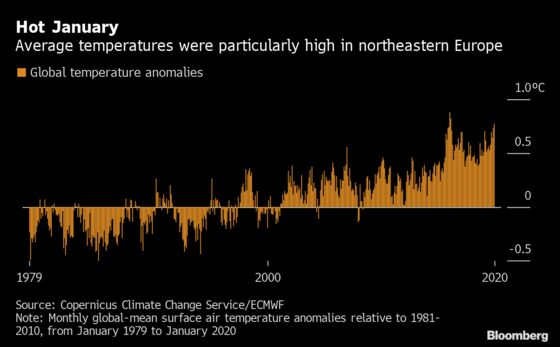 Northeastern Europe was particularly hot, with some areas from Norway to Russia more than 6 degrees above the 1981-2010 January average. Norway experienced its warmest January day on record — 25 degrees Celsius hotter than normal — leading to reports of people swimming in normally ice-covered fjords. 

"Warmer than average temperatures east of Greenland extending to the northwest of Svalbard coincide with below-average sea-ice cover there," Copernicus said in the statement. "Temperatures were also much above average over most of the USA and eastern Canada, over Japan and parts of eastern China and Southeast Asia, over the state of New South Wales in Australia and over parts of Antarctica."
Copernicus reported last month that the last five years on Earth have been hotter than at any time since the industrial revolution kicked off almost two centuries ago.